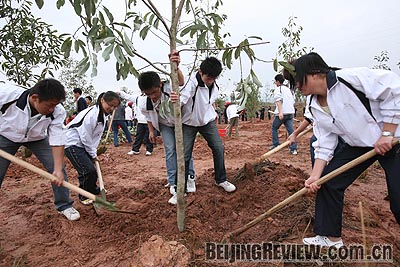 PLANTING SPRING: Students in Wuyishan City, Fujian Province, plant trees on China's Tree Planting Day, which falls on March 12 (XINHUA) 
Judicial Corruption
China's top judge Wang Shengjun said while delivering a work report to the Second Session of the 11th National People's Congress that the Supreme People's Court will "improve education on judges' work ethics" as a way to weed out judicial corruption.
Wang said judicial corruption has seriously damaged the credibility of China's judicial system and resulted in "very bad" social impacts.
"Some judges have poor work ethics. A handful of them resort to fraudulent practices for personal gain, pervert justice for bribes and live a dissolute lifestyle," he said.
A total of 712 officials from courts at various levels in China were punished for breaking laws or disciplines in 2008, Wang said. Among them, 105 faced criminal charges.
Anti-Piracy Expedition
The Chinese Navy's anti-piracy mission off the Somali coast will not end soon, Navy Rear Admiral Zhang Deshun of the People's Liberation Army (PLA) told Xinhua.
"The length of our mission depends on Somalia's political and social stability. We feel our mission will not come to an end soon," Zhang said.
The flotilla-destroyers Wuhan and Haikou, and the supply ship Weishanhu--took up its duties off the Somali coast in January.
With a crew of more than 800 members including 70 soldiers from the Navy's special forces, the three ships have already escorted 104 vessels and rescued three foreign merchant ships from pirate attacks, according to Huang Jiaxiang, Political Commissar of the PLA Navy's South China Sea Fleet.
Greener Country
China will spend 60 billion yuan ($8.6 billion) annually on its tree-planting projects to achieve a forest coverage rate of 20 percent by 2010, according to Jia Zhibang, head of the State Forestry Administration.
He said 16.66 million hectares of trees must be planted in the next two years in order to increase the forest coverage rate from its present 18.21 percent.
China managed to create 4.77 million hectares of new forests in 2008, an increase of 22.1 percent compared to 2007. However, natural disasters in 2008, including January's snow and sleet disaster in the south and May's massive earthquake, destroyed a large number of forests. The forest coverage rate dropped by 0.29 percent after the disasters.
Fake Vaccines
China's drug watchdog has revoked the production license of a pharmaceutical company that produced flawed rabies vaccines and has banned the firm's principals from any involvement in the industry for 10 years.
The State Food and Drug Administra-tion (SFDA) also annulled the vaccine's approval certificate for human use granted to the Dalian Jingang-Andi Bio-products Co. Ltd.
An SFDA official told Xinhua that General Manager Wang Quanfeng and Deputy General Manager Luo Huosheng had been found responsible for the faulty vaccines. The company is said to have added polyinosinic-polycytidylic acid to lower production costs.
Of the 360,200 doses produced and sold by the company last year, 326,400 had been recalled as of February 22, and most of the rest might already have been used, according to the SFDA.
No problems related to the company's vaccines have been reported so far. The SFDA said in a statement on its website that it was closely monitoring any vaccine-related illnesses and cooperating with health authorities to reduce the harm.