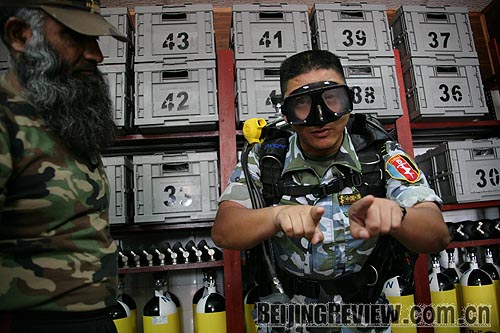 (WANG XIANG)
Sun Hao, a member of the Chinese navy special technical unit that participated in the Pakistan-initiated Aman 09 multinational naval exercise, demonstrates frogman equipment at the headquarters of the Pakistani navy special service group on March 9.
The 10-day drill, launched on March 5 in Pakistan's port city of Karachi, included search-and-rescue exercises, anti-piracy operations and fleet formation defenses.
Eleven countries, including China, the United States, Britain, France, Japan and Turkey, sent warships, aircraft and special operations squads for the drill, while 29 countries dispatched observers. The Chinese task force included a missile destroyer, a helicopter and a Marine Corps crew.