Expo in Beijing
The 2009 China International Energy Saving, Emission Reduction and New Energy Science and Technology Expo is scheduled for March 19-23 at the Beijing Exhibition Center.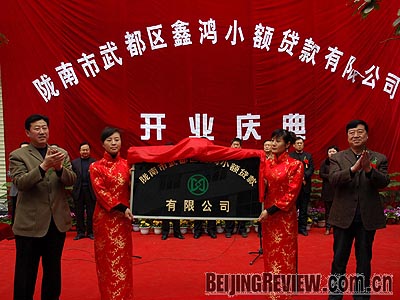 SMALL LOANS The Xinhong Microcredit Co. Ltd. in Longnan, northwest China's Gansu Province, starts operations on March 7. The government is encouraging microcredit companies to help finance reconstruction efforts in areas hit by last year's devastating earthquake (LIAN ZHENXIANG) 

During the expo, the largest of its kind in China, more than 200 domestic and international companies and institutions will display their latest products and technology.

The expo will also offer visitors and exhibitors consultative services on financing, obtaining patents and learning about related laws, as well as a series of forums.

Currency Swap

The People's Bank of China, the central bank, announced on March 11 that it signed a currency swap agreement with the National Bank of the Republic of Belarus.

Under the deal, the two banks can swap 20 billion yuan ($2.9 billion), or 8 trillion Belarus rubles, over the next three years.

The currency deal was reportedly designed to advance bilateral trade and investment ties between the two countries and bolster their economic development.

The central bank has also signed currency swap agreements with Malaysia and China's Hong Kong Special Administrative Region in the past two months, totaling 280 billion yuan ($41 billion).

Sailing Overseas

The State-owned Assets Supervision and Administration Commission recently announced that COSCO Pacific Ltd., a Hong Kong and Shanghai-listed container unit of the China Ocean Shipping (Group) Co., received approval from the Greek Congress to operate six container wharfs in Greece's main port of Piraeus. It will be the first Chinese company to operate in a foreign port.

COSCO Pacific signed a 4.3-billion-euro ($5.4 billion) deal with Greece last November to manage and upgrade facilities at the Piraeus Port for up to 35 years, marking China's biggest foreign direct investment in Greece to date.

COSCO Pacific is currently the world's fifth largest container terminal operator, while Piraeus is the largest container port in the East Mediterranean with an annual throughput of 1 million containers.

Steel Deal

Shougang Group, China's sixth largest steelmaker, is in talks to buy Guiyang Special Steel Co. Ltd., Shougang's Chairman Zhu Jimin said on March 11 on the sidelines of the annual session of the National People's Congress.

Based in southwest China's Guizhou Province, Guiyang Special Steel has an annual capacity of less than 1 milAlion tons.

Zhu also said Shougang is in takeover talks with a number of other smaller rivals and will gradually push ahead with its acquisition activities.

The government has encouraged mergers and acquisitions to consolidate the fragmented steel industry and revive the slowing economy.

Coal Discovery

A new coalfield with estimated rare quality coke reserves of more than 3 billion tons has recently been discovered in Caoxian County, east coastal Shandong Province, according to a report in China Daily.

The coal-bearing strata covers 300 square km and has an average thickness of seven meters, said Zhang Zengqi, Deputy President of the Shandong Provincial Academy of Geology and Scientific Experiments.

The coalfield's potential economic value is estimated at 1.5 trillion yuan ($220 billion) according to current coke prices, the report said.