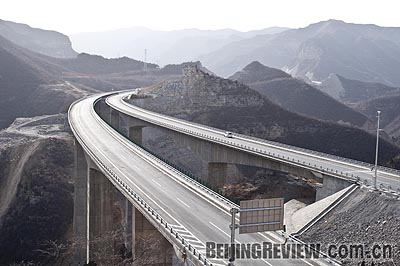 COAL PROVINCE: Central China's Shanxi Province, abundant in coal reserves, will focus on diversifying its industrial structure, improving people's livelihoods and enforcing the safe production of coal mines this year (YUAN WENZHONG)
Shanxi Province, located in China's less developed central region, is a province rich in energy and natural resources. With a single industrial structure that relies heavily on resources, the province suffered greatly last year after resource product prices plummeted amid the financial crisis. Zhang Baoshun, deputy to the 11th National People's Congress and Secretary of the Shanxi Provincial Committee of the Communist Party of China, told Beijing Review the province is going to rev up the transformation of its economic growth model and advance in-depth economic structural adjustments this year to ensure its economy continues to grow.
Beijing Review: What achievements did Shanxi attain last year to promote economic development?
Zhang Baoshun: Just like elsewhere in China, the Shanxi economy reported overall growth last year despite difficulties we had in the fourth quarter. Growth in the tertiary sector for the first time surpassed that of the secondary sector and the overall economy. Emerging industries developed much faster. We achieved breakthroughs in ecological construction projects to reduce energy consumption per 10,000 yuan of GDP, and came out on top in terms of cutting sulfur dioxide emissions and chemical oxygen demand nationwide. We improved people's livelihoods on average, increased the per-capita disposable income of urban residents and the per-capita net income of farmers, and reduced the impoverished population by 250,000 last year.
What have you done in terms of countercrisis efforts?
As part of our countercrisis efforts, we timely worked out plans for pillar and livelihood projects worth 650 billion yuan ($95 billion) over the next two years, launched key projects for railway, highway, airport and water conservancy construction, and introduced a series of measures to help enterprises pull through the crisis and offer more employment opportunities to local residents. While reinforcing our help to residents with financial difficulties, we seized the opportunities the crisis offered to adjust the economic structure and transform our growth model.
What are the difficulties that Shanxi faces amid the global financial crisis?
Shanxi is confronting new problems and situations against the backdrop of the volatile global economic environment. Some deep-seated contradictions and problems that have accumulated during the past years, such as a single, primary industrial structure, weak risk-resistance capacities, and the lack of production safety guarantees, were exposed during the crisis.
How will you keep the economy growing this year?
We will give the economy a boost by strengthening infrastructure and livelihood project construction, winning more government-funded investments and activating private capital. We will promote cooperation between banks and enterprises for more innovations in financial products and services, speed up the urbanization process and stay active in promoting economic growth in Shanxi.
Not a minute will be wasted in the construction of key infrastructure projects and projects vital to improving people's livelihoods. At the same time we will address related issues such as land and capital with due prudence, and reinforce the supervision of construction funds and the quality of projects.
On the enterprise front, we will help enterprises adjust their product portfolios and improve their product quality, make it easier for small and medium-sized enterprises to obtain loans and financing, and create a favorable environment for enterprises. We will maintain economic growth while boosting employment and encourage enterprises through favorable policies and measures to offer more jobs to returned migrant workers and college graduates. In addition, we will create an atmosphere of business startups and make employment expansion and business startups important solutions for improving people's livelihoods.
In order to boost consumption, we will improve related policies and optimize the consumption environment, further explore the potential of rural markets and implement the Central Government's campaign to subsidize farmers' purchases of select brands of home appliances, agricultural machinery, cars and motorcycles.
We will also strive to rev up building a new countryside, increase farmers' incomes and explore the development potential of agriculture and the rural areas.
Production safety is a hard nut to crack in Shanxi in order to achieve quality economic development. How will you guarantee safe production this year?
We will aim to improve the grim situation of safe production in Shanxi this year. Safe development is considered an important element in the Scientific Outlook on Development and a guarantee of its successful implementation. We will make people's life security our top priority, create an atmosphere for a production safety campaign and take the initiative to promote safe production in all business entities. We will strengthen the safe production guarantee system and the safe production responsibility system to clear up latent risks and ensure every link of the responsibility chain has someone in place. Also, we will improve the mechanism of safe production, continue to impose punishments for safe production violations, and conduct activities with safety-related themes among local enterprises.