Chinese missile destroyer Guangzhou arrived at the Karachi naval shipyard in south Pakistan on March 5 for the Aman 09 multinational naval exercise. Under the slogan "Together for Peace," the exercise, led by the Pakistani navy, was conducted in the North Arabian Sea from March 5 to 14. It consisted of harbor and sea phases, aimed at the development and improvement of Response Tactics, Techniques and Procedures, or RTTP, with a focus on combating terrorism. Commander Li Ping, Captain of Guangzhou, shared his views on the significance of Aman 09 for the Chinese navy in an interview with Beijing Review reporter Chen Ran, just days before the sea phase exercise began.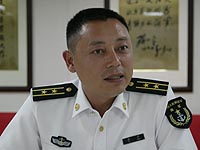 Li Ping, Captain of destroyer Guangzhou (WANG XIANG)
Beijing Review: How do you view China's participation in Aman 09?
Li Ping: Aman is an Urdu word meaning "peace." This is the second exercise in the Aman series. The first was held in Karachi in 2007, when 23 ships including two Chinese guided-missile frigates, Lianyungang and Sanming, participated in the weeklong exercise.
The participation of missile destroyer Guangzhou, in my opinion, is significant in four major ways.
First, a grander image of the Chinese navy--first-class equipment and well-trained soldiers--will be presented through the exercise.
Second, China is a responsible country in maintaining regional and international security and stability. Our participation in the exercise will be a testament to China's determination and confidence in fighting against terrorism and intensifying international cooperation.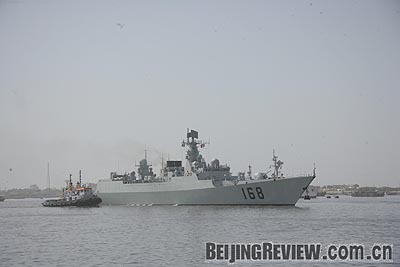 Destroyer Guangzhou (WANG XIANG)

Third, it will help the Chinese navy "go global" to share experience, enhance cooperation and build mutual trust with its counterparts. The substance of the military exercises the Chinese navy has attended, including the Aman series and the Peace Mission 2005 Sino-Russian joint military exercise, is "peace." China is along the path of peaceful development. The military relationships that China maintains with other countries lie on the basis of the Five Principles of Peaceful Coexistence, which means mutual respect for each other's territorial integrity and sovereignty, mutual non-aggression, mutual non-interference in each other's internal affairs, equality and mutual benefit, and peaceful co-existence. The major purpose of a military exercise is to consolidate friendship, increase exchanges, jointly address issues and identify solutions. Aman 09 will enhance our capabilities in coping with changes in military technology, multifaceted security challenges as well as diverse military missions. Non-traditional military tasks, which diverge from the military's traditional tasks of confrontation and war, range from antiterrorism and anti-piracy to international humanitarian aid and disaster relief.

Fourth, this military exercise will enhance friendships--between China and Pakistan, and between China and other participant countries.

What is Aman 09's significance for the China-Pakistan relationship?

China and Pakistan are all-weathered friends. Sending Guangzhou, our most advanced homemade destroyer, showcases China's full respect for Pakistan's invitation. We are willing to continuously push forward state-to-state and military-to-military relations and consolidate the China-Pakistan friendship. We believe that the Aman 09 multinational naval exercise will play a positive role in pushing forward and deepening bilateral relations at all levels.

What will be the implications of Aman 09 for the Chinese naval escort mission in the Gulf of Aden and off the Somali coast?

The anti-piracy action taken by a Chinese naval fleet in the Gulf of Aden and off the Somali coast was initiated by the United Nations, invited by the Somali Government and approved by the Central Military Commission of China. Not surprisingly, lack of experience has been a problem since this is the Chinese navy's first-ever overseas escort mission. We should act in accordance with the UN Charter and international law and gain experience in how to handle problems properly. This will require more exchanges and cooperation among nations.

To this end, the Aman 09 exercise will provide a platform for discussion and sharing experience. It will be helpful for our escort mission if we can learn something from the exercise. What's more, it will create better coordination and more joint efforts for our escort mission if we build up mutual trust with other participant countries through Aman 09.

(Reporting from Karachi)