The long expected 14th Summit of the Association of Southeast Asian Nations (ASEAN) took place in central Thailand's Hua Hin from February 27 to March 1. Under the theme of "ASEAN Charter for ASEAN Peoples," the summit reflected the joint efforts of the 10-member organization to break the development deadlock caused by the financial crisis, as well as begin a new phase of ASEAN revival.
In recent years, ASEAN and its member countries have fallen into political and economic chaos. Since the September 2006 military coup in Thailand, the current ASEAN chair state, the country has been mired in political, economic and social division and turmoil. Consequently, the summit dates and location had to be changed repeatedly. Malaysia, too, was stuck in a political swamp as thousands protested against government corruption and ethnic discrimination. The economic situation in the region was not optimistic either. After enduring the panic triggered last year by sliding commodity prices and financial turbulence in Viet Nam, these export-oriented economies have been hit again by the ongoing financial crisis. Singapore is now officially in recession.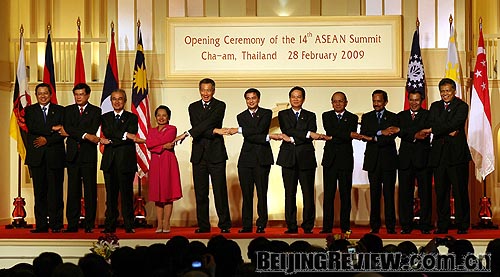 INTERLOCKING INTERESTS: ASEAN leaders hold hands at the opening ceremony of the 14th ASEAN Summit on February 28 in Thailand, showing unity in the face of crisis (ZHANG FENGGUO) 

Observers have doubted ASEAN's future. Can member states establish an ASEAN community by 2015? Can they summon regional strength to conquer the global financial crisis? Can a regional organization like ASEAN be skillful enough to cover East Asian cooperation under the "10+1" (ASEAN plus China) and "10+3" (ASEAN plus China, Japan and South Korea) models? Can big countries spare attention to look after ASEAN when they are grappling with the financial crisis?

The Hua Hin summit indicated that ASEAN countries are now stepping into another phase: breaking the development deadlock.