The Food Safety Law, adopted by the Standing Committee of the 11th National People's Congress (NPC) on February 28, toughens penalties for substandard food makers. It also promises to enhance monitoring and supervision, strengthen safety standards and recall substandard products. The law, which was intensely debated in committee, will go into effect on June 1.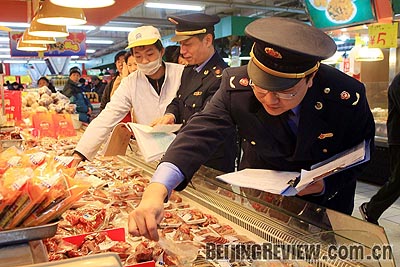 GOOD MEAT: Industry and commerce authorities inspect the production date of meat in a Beijing supermarket (XINHUA) 

The 104-article law says a state-level food safety commission will be established to oversee the entire food monitoring system, under which the Ministry of Health, Ministry of Agriculture, State Administration for Industry and Commerce, State Food and Drug Administration and General Administration of Quality Supervision, Inspection and Quarantine will shoulder different responsibilities. These include risk evaluation, the making and implementation of safety standards, and food production and distribution monitoring.

The law stipulates a ban on all chemicals and materials other than authorized additives in food production, saying that "only those items proved to be safe and necessary in food production are allowed to be listed as food additives."

According to the law, health authorities are responsible for assessing and approving food additives and regulating their usage. Food producers must only use food additives and their usage must gain authorities' advance approval. Violators could be shut down or their production licenses revoked in serious cases, according to the law. Producers of edible farm products are required to abide by food safety standards when using pesticide, fertilizer, growth regulators, veterinary drugs, feedstuff and feed additives. They must also keep farming or breeding records.

Offenders could face maximum fines which would be 10 times the value of sold products. If businesses are found producing or selling a substandard foodstuff, consumers can ask for financial compensation which is 10 times the price of the product. That's in addition to compensation for the harm the product causes to the consumer.

To better protect consumers' rights, the law bans food safety supervision and inspection agencies, food industry associations and consumers' associations from advertising food products.