Premier Wen Jiabao delivered the 2009 Government Work Report on March 5 at the Second Session of the 11th National People's Congress (NPC), saying that China would work tirelessly to save energy, reduce emissions, preserve the country's ecosystems and protect the environment.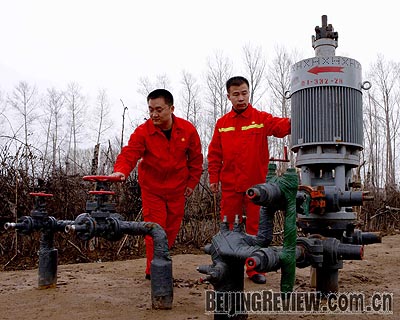 SAVING ENERGY: Workers in Daqing Oil Field, Heilongjiang Province, inspect energy-saving equipment (CHEN JIANLI)

Wen pointed out that industry, transportation and construction were the three key sectors that the country would focus its efforts on to achieve important environmental goals. He said the government would push forward 10 energy-saving projects and implement measures in power generators, boilers, automobiles, air conditioners and lighting products, as well as boost recycling and increase clean energy generation from nuclear, wind and solar power sources. In the meantime, the government would also perfect emissions monitoring and evaluation systems and strictly enforce the relevant national standards, Wen said. He called on government agencies, government-affiliated enterprises and non-profit institutions to play an exemplary role in energy conservation and emissions reduction.

'Half of its target in half of the time'

The report also enumerates some of the progress made so far in energy savings and environmental protection. Compared with the previous year, in 2008. China's energy consumption per unit of GDP (gross domestic product) fell by 4.59 percent, while the total amount of chemical oxygen demand (COD) and sulphur dioxide dropped by 4.42 percent and 5.95 percent, respectively, the report said.

In 2005, President Hu Jintao started China on the mission of conserving resources and building an environmentally friendly society. In its 11th Five-Year Plan, the country set a target of reducing energy consumption per unit of GDP by 20 percent between 2006 and 2010.

At a national conference on pollution prevention on February 25, Zhang Lijun, Vice Minister of Environmental Protection, said the country has achieved "half of its target in half of the time" in reducing major pollutant emissions. Since 2006, the report said, China's energy consumption per unit of GDP have dropped by 10.08 percent. Total COD and sulphur dioxide, meanwhile, has dropped by 6.61 percent and 8.95 percent, respectively.

Progress in key areas

The government allocated 42.3 billion yuan ($6.19 billion) from its coffers to support the 10 key energy conservation and environmental protection projects, Wen said. The projects were launched in 2005 by the National Development and Reform Commission (NDRC), the country's top economic planner.

In 2008, China made headway in eliminating obsolete production capacity. The government shut down small generators with a total capacity of 1,669 kw and 1,054 small coal mines, according to the report.

Significant progress has been made in the country's green lighting project, the report says. The NDRC said that as of the end of January, 62 million energy-saving bulbs had been distributed to households all over China. NDRC plans to distribute 150 million energy-saving bulbs between 2008 and 2010. The agency estimates the bulbs will save 29 billion kwh of electricity and keep 29 million tons of carbon dioxide out of the atmosphere every year.