On December 3, 2002, just one year after Beijing successfully bid for the Olympics, Shanghai won the right to host the 2010 World Expo at a meeting in Monte Carlo, Monaco. Since then, Shanghai has been working hard to prepare for the event.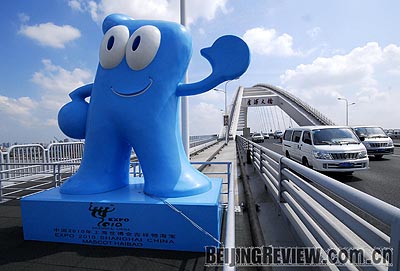 WELCOME TO SHANGHAI: Haibao, the 2010 Shanghai World Expo mascot, stands by the city's downtown Lupu Bridge to welcome the big event (XINHUA) 

"Everybody knows what the Olympics are, but not everybody knows the World Expo," said Zhu Yonglei, Deputy Director General of the Bureau of Shanghai World Expo Coordination, at a press conference on February 25. "To put it simply, the World Expo is the Olympics of culture, art, science and technology."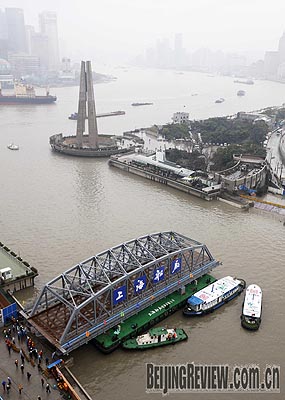 YESTERDAY ONCE MORE: The 100-year-old Waibaidu Bridge spanning the Huangpu River in Shanghai is reinstalled on its original site on February 25 after renovations (PEI XIN) 

China's road to the expo started after it successfully hosted 1999's International Horticultural Exposition in Yunnan Province's Kunming City, in the south of the country. The event gave organizers a basic understanding of expositions, but the real learning process began only six years ago, when China's successful bid landed the 2010 Expo.

With the theme "Better City, Better Life," Shanghai's is the first World Expo that makes city life the focus of the event. Exhibitions will showcase the best examples and ideas of urban development from around the world.

Getting ready

On October 31, 2003, the Bureau of Shanghai World Expo Coordination was set up to prepare for the event.

Organizers in December 2007 unveiled the 2010 Expo's mascot, Haibao, which means treasure of the world. The smiling blue cartoon character was designed in the shape of the Chinese character ren-a human being. It was selected out of more than 26,000 entries coming from 21 countries and regions. It is an innovation to use, for the first time, a character for the mascot design for a large-scale international activity. It also reveals the idea that a beautiful life rests upon the common effort of "you and me."

Construction started in August 2006 on World Expo Park, the 5.28-square-km tract of land on the banks of downtown Shanghai's Huangpu River, which will be home to 33 sites planned for performances. Nineteen countries, including Holland, Britain, Switzerland and Nepal, have designed pavilions that will be housed in some of the seven indoor and 26 outdoor spaces. The main structure for China's pavilion was finished at the end of 2008. All work is expected to be completed by the end of 2009, when the structure will become a permanent Shanghai landmark.

Meanwhile, Shanghai also plans to build or renovate more than 35 km of roads and four new subway lines to ease traffic congestion during the event. "We advanced the general subway plan by 10 to 15 years just for the World Expo," said Zhu.