Numbers of the Week
$2 billion
Coca-Cola Co. announced on March 6 that it will invest more than $2 billion in China over the next three years.
4.2%
The urban unemployment rate surged to a three-year high of 4.2 percent in the fourth quarter of last year.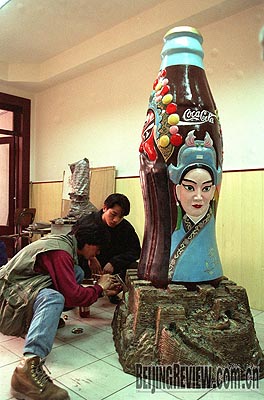 TO THE POINT:

Major economic figures in February all signaled economic downturn pressure in China in the wake of the global credit crunch. The country's CPI and PPI fell into negative territory, igniting jitters of deflation. Shrinking demand also undermined China's foreign trade. A faster drop in exports led to the lowest trade surplus in three years. Home prices fell nationwide. The securities watchdog reversed course and issued new licenses to three qualified foreign institutional investors enabling them to invest in mainland capital markets.

By LIU YUNYUN

Major Economic Figures in February

CPI

Inflation is no longer a problem, given the consumer price plunge in February.

Last month, the consumer price index (CPI), a barometer for inflation, dropped 1.6 percent year on year, the first negative growth in six years.

Only half a year earlier, the Chinese economy was beset with inflationary pressure, mirrored in surging food prices and an overall increase in the cost of living.

Now that consumer prices have dropped due in part to the global economic downturn, some analysts are worried that deflation has started to gain ground, which might put a dent in the marginal income of merchandisers.

But the National Bureau of Statistics (NBS) has denied the possibility of the onset of deflation. It said the mainland market had an abundant supply of money with an increasing number of loans, thanks to the current appropriately accommodative monetary policy.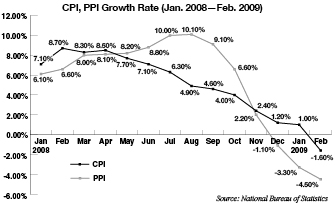 Merrill Lynch & Co. also agreed that sustained deflation is "not a major risk" and said it did not expect monetary policy to overreact to the CPI's decline. Looking ahead, Merrill Lynch expects higher grain prices, civil service wage increases, more spending under the government's stimulus package, and rising money and credit growth rates-all of which should help prevent the onset of deflation.
PPI
The producer price index (PPI) dropped by 4.5 percent in February in line with analysts' expectations. It was the PPI's biggest plunge in a decade.
The index, which measures wholesale prices, fell for three months in a row, casting a shadow on economic growth and raising concerns about deflation.
The wholesale price of raw material, fuel, and power-the major triggers of the last round of inflation-dipped 7.1 percent year on year in February.
PPI's drop might eventually dry up enterprise profits as prices for goods have plummeted. This in turn has made companies reluctant to reinvest and exacerbated a loss of confidence among investors.
Zuo Xiaolei, Chief Economist at China Galaxy Securities Co. Ltd., said in a statement that government-led reinvestment, consumption expansion and an increased money supply would boost demand and help reverse the economy's downward trend.
Many financial institutions believe there is still room for further action such as interest rate cuts. But Zuo argued that rate cuts would be in vain, and the economy could only regain its growth momentum when battered investor and consumer confidence was restored.
Foreign trade
China's foreign trade suffered a severe contraction from the global financial woe, resulting in a three-year low trade surplus of $4.8 billion in February, according to the General Administration of Customs.
Both exports and imports plunged because of worsening international and domestic demand.
The country's total trade value fell for the fourth consecutive month to $125 billion.
In February, imports dropped 24 percent to $60 billion, while exports fell 25.7 percent year on year to $65 billion, leading to the lowest surplus in three years.
China embarked on a "buy European" spree for hi-tech products from developed European nations, which is expected to boost imports and further weigh down the trade surplus.