For thousands of years, Chinese people have dreamed about visiting the Moon, and expressed their aspiration in myths and poems. The story of Chang'e is the most famous one about the Moon.
The story says that once upon a time, there were 10 suns shining in the sky. The 10 suns were the naughty sons of the god king, who came out together rather than one each day. They scorched the earth, burned crops and dried up rivers and lakes. People were grilled in deadly heat. Houyi, a brave archer, shot down nine suns and saved the people. But the god king was angry for losing his nine sons, and forbade Houyi and his beautiful wife Chang'e from returning to heaven. Houyi got a magic pill from a goddess. Anyone swallowing the pill would fly to the Moon and would never die. Chang'e hankered for life on the Moon, and swallowed the pill. She flew to the Moon and lived there forever.
China's first lunar orbiting satellite, Chang'e 1, made a controlled crash on March 1 after circling the Moon more than 5,500 times. At 4:30 p.m. Beijing time, the satellite smashed into the surface near the equator. Scientists controlled the collision from the Beijing Aerospace Control Center (BACC).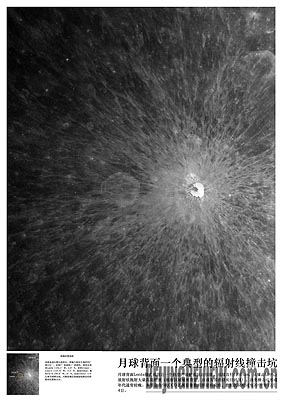 LUNAR LANDSCAPE: A picture of a crater on the dark side of the Moon captured by Chang'e 1 and released by the China National Space Administration (XINHUA NEWS AGENCY) 

The satellite, named after a legendary Chinese moon goddess, launched on October 24, 2007 and entered its projected orbit 200 km above the Moon in November.

China's 50-year-old aerospace industry has developed technology to support its lunar probe program. In a November 2000 white paper titled China's Space Activities, the country's space authorities listed moon probing as a goal.

China's lunar exploration project is being executed in three phases, according to Ouyang Ziyuan, the project's chief scientist and an academician in the Chinese Academy of Sciences (CAS).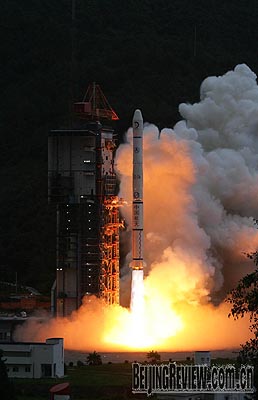 TAKING OFF: The rocket carrying Chang'e 1 blasts off on October 24, 2007(XINHUA NEWS AGENCY)

The first phase spanned 2004 to 2007. Ouyang said the goal was to launch Chang'e 1, a lunar orbiter that would circle the Moon for a year to collect data. Chang'e 1's controlled crash marked the successful completion of phase one. Chang'e 1, designed to complete its mission last October, was allowed to continue for four more months since it was in better condition than expected. It worked for a total of 494 days and orbited the Moon for 482 of those.

It cost more than 1 billion yuan ($146 million) to build Chang'e 1, said Ouyang, which is about the cost of building 2 km of subway in Beijing. So the cost of Chang'e 1 is not exorbitant.

In the second phase, the goal is to launch two satellites, Chang'e 2 and Chang'e 3. Testing on Chang'e 2 will be completed this December and it will be launched in either 2010 or 2011. Scientists want to soft land Chang'e 3 on the Moon along with a lunar rover. The rover will explore the Moon for about 90 days. Chang'e 3's design is finished and prototype development will start in September, said Ouyang. It is expected to land on the Moon in 2012 or 2013.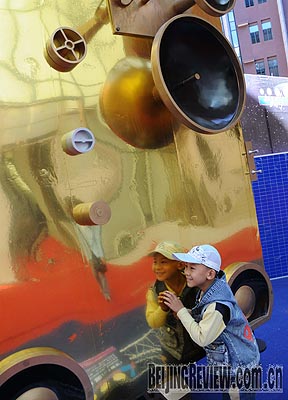 LUNAR ORBITER: A model of Chang'e 1 is exhibited at the Shenyang Institute of Aeronautical Engineering on September 23, 2008 (XINHUA NEWS AGENCY)

During the third phase another moon rover will soft land on the Moon after an expected launch in 2018. The craft will collect samples and carry them back to the Earth for analysis.

Mission complete

Many people do not understand why scientists put such a violent end to Chang'e 1.

"Pulled by the Moon's gravity, a satellite's orbit will come closer and closer to the Moon," Ouyang said. "It would crash into the Moon sooner or later as it runs out of fuel, and scientists would be unable to control when and where."

Rather than waiting for the satellite to waste itself out, scientists wanted to perform a controlled crash so that they could gather useful data, Ouyang said. Information about the Moon's dust and gases would shed light on its formation.