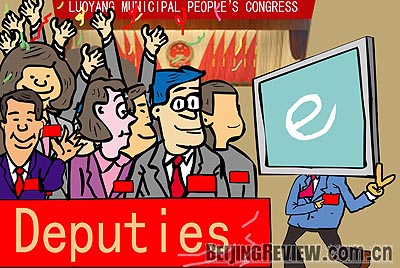 The entry of a netizen representative to the local people's congress of Luoyang City, central China's Henan Province, is causing growing controversy as the questioning of their credentials surfaces.
The issue has been widely debated during this year's sessions of the National People's Congress, China's top legislature, and the National Committee of the Chinese People's Political Consultative Conference (CPPCC), the country's top advisory body.
Senior netizen Zhang Xiaoli, who goes by the pseudonym "Lao Niu" online, has long been active in local public affairs in Luoyang. He played a leading role in inspiring the Internet community to launch a non-governmental organization, the Luoyang Internet Development Association, at the end of last year, and served as its executive president. Earlier this year, the 46-year-old Zhang was elected to the Luoyang Municipal People's Congress as a representative of netizens. His move from political cyberspace to the real world, along with the nomination of another three popular online forum moderators, known as "Flush," "Love My Luoyang" and "Great River," as members of the CPPCC Luoyang Municipal Committee, has astonished many.
Most Internet users applauded Zhang's election, seeing it as a milestone in the development of the online community and forums, which have already been a major exchange platform for various opinions and information in China. As the country endeavors to expand channels for ordinary citizens to participate in the administration of public affairs, they believe that "netizen deputies" are helpful to make their voices better heard.
With the emergence of netizen deputies, ordinary people would have a bigger say in organizations of state power, some also said.
But a few opponents argued that Zhang was not a real representative of netizens because he was neither nominated nor elected to the local legislative body by Internet users. Moreover, a deputy to a people's congress must represent a certain constituency, according to current electoral rules. But the requirement can hardly be applied to the virtual world of the Internet, where there are no geographical boundaries.
Powerful medium
Guo Bing (www.china.com.cn): The influence of Internet users is moving from virtual space to the real world. Netizen deputies to people's congresses are such an example. In the past, netizens participated in the administration of public affairs mainly through three channels-anti-corruption campaigns, interaction between the government and netizens and Internet-based policy feedback. In these processes, however, netizens were always passive. The emergence of netizen deputies represents a significant change, which means Internet users can play a more active role in the administration of public affairs.
Netizen deputies are highly recognized by their net friends in online communities. As Internet technology spreads and citizen awareness rises, Internet communities seem to pose challenges to old methods of governance. On one hand, netizens are growing into a powerful force in society. On the other hand, they are hard to identify in a virtual world. Netizen deputies have undoubtedly supplied new communication windows to ensure public voices are heard.
Ai Cao (www.dahe.cn): At the end of 2008, the number of Chinese netizens stood at 298 million, a 41.9-percent increase over the previous year. They accounted for 22.6 percent of the total Chinese population, slightly higher than the global average of 21.9 percent. An increasing number of Chinese people are choosing the open platform to express their opinions about a variety of public affairs.