Even in winter the variety of flora in Xishuangbanna in southwest China's Yunnan Province is an impressive sight to behold. The north tropical monsoon climate ensures a year-round abundance of fruit. Besides run-of-the-mill offerings such as pineapples, coconuts and bananas is more exotic fare such as papayas, tamarinds, jackfruit and mangosteens.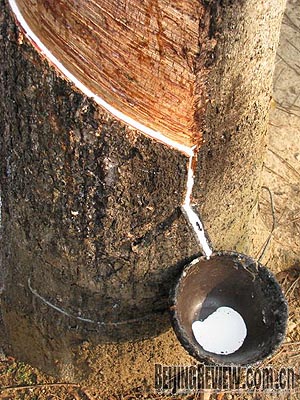 STRETCH MARKS: Latex collects in a bowl at a rubber tree demonstration area in the Xishuangbanna Tropical Botanical Garden (ROSEANNE GERIN)

This tropical fruit salad is a marked contrast to the rolling brown hills with rows upon rows of tall, slender, leafless rubber trees, sticking straight out of the earth like oversized matchsticks. Early March is usually the beginning of the annual tapping season here, when a thin layer of top bark is removed along a downward half spiral on each tree to allow milky latex to drip down into a collecting cup at the base.

"Banna," as it's called by locals, is one of China's two rubber-producing areas; the other one is in Hainan Province. Although the cash crop is not native to Yunnan, it has been a mixed blessing for the local economy and ecosystem since it was introduced in the late 1940s. A few years later, the government sent researchers to the area to determine the feasibility of growing rubber as a strategic natural resource.

Beginning in the mid-1950s, the government started clearing large swaths of tropical seasonal rainforest-the only one in China-to make way for state-owned rubber plantations. Large-scale deforestation continued until the early 1980s for farmland, rubber and tropical fruit tree plantations and for timber. Today there are both state-owned and private rubber plantations. As rubber prices have tripled over the last decade, the world's largest tiremakers have gotten in on the act, forming cooperation deals for rubber research and development with state-owned companies.

Researchers at the Xishuangbanna Tropical Botanical Garden (XTBG), a conservation research institute under the Chinese Academy of Sciences, have been documenting the effects of rubber plantations on the local ecosystem for the last few decades. A study in 2006 found that about 67 percent of the tropical rainforest in Xishuangbanna had been lost to rubber plantations between 1976 and 2003. Today rubber trees cover almost 400,000 hectares, or about one fifth of Xishuangbanna Prefecture's territory, according to a recent article in the scientific journal Nature.

The forces of yin and yang are at work in rubber production in Xishuangbanna. As the world's largest consumer and importer of natural rubber, China has a huge appetite for latex for its booming automotive industry. The government has set a goal to produce one third more rubber, or nearly 859,800 tons, by 2010 than it did in 2007. In the meantime, scientists here are researching new strains of rubber trees that can grow at higher elevations, since most are already planted in the low-lying areas of Xishuangbanna, and how to speed up their maturity rate. The plans have the blessing of the Yunnan government, which believes it is necessary to increase natural rubber industrial development in the province.

Rubber trees have benefited the local economy tremendously, because they are one of the more lucrative cash crops for farmers to grow. They can earn net income of 15,000 yuan ($2,200) a year per hectare for rubber compared with 2,000-3,000 yuan ($292-$438) for rice or tea, according to Nature.