During the Second Session of the 11th National Committee of the Chinese People's Political Consultative Conference (CPPCC) that concluded on March 12, a total of 5,571 motions were put forward, offering comments and suggestions on the country's major economic and social issues.
Of the motions that were classified during the conference, about half focused on economic matters; more than 20 percent were about education, scientific research, culture, health care and sports; and more than 20 percent were about politics, legal affairs and social security.
Here are summaries of some of the hotly discussed motions.
Protecting the Wetlands of Qinghai Plateau
Zhang Zhouping, Deputy Secretary General of the CPPCC Qinghai Provincial Committee
The motion said the wetlands in northwest Qinghai Province were crucial to a number of local sectors, such as agriculture, fishing and hydropower generation, and also played a key role in maintaining a sound local ecological environment. There are seven wetland reserves in the province, totaling more than 21 million hectares in area.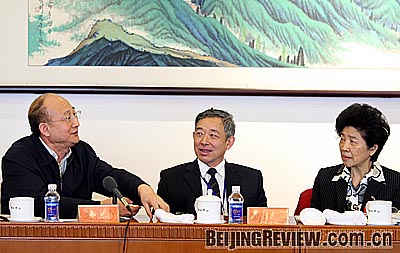 POLITICAL EQUATION: CPPCC members of the Jiu San (literally meaning September 3) Society, one of China's eight non-Communist parties, take part in a discussion about Premier Wen Jiabao's work report (JIANG XIAOYING) 

But because of excessive grazing and weak management, the wetland areas of the province have been shrinking rapidly in recent years, and some species have disappeared, the motion said.

The motion suggested prohibiting or reducing grazing in the wetlands and strengthening the management and protection of the wetland reserves. Local households suffering from those protective measures could be given some subsidies, the motion said.

Compulsory Social Practice For University Students

Zhang Jindong, President of Suning Appliance Chain Store (Group) Co. Ltd.

The motion revealed a major problem preventing many university students from landing a job after graduation-their lack of practical abilities. The motion said China's universities cannot adequately meet the demands of employers who attach importance to work experience and practical abilities. The motion said many university students have taken part in social practice such as internships, but mostly on a voluntary and unevaluated basis.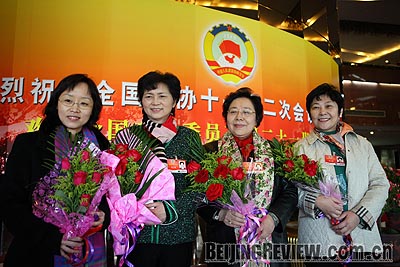 WOMEN TALK: Female CPPCC members spend a happy Women's Day on March 8 (JIANG XIAOYING)

 

The motion suggested that social practice be made compulsory for university students to help them with their job-hunting abilities. Education authorities should also set up an examination standard and grading system for the students' practice.

Curing Internet Addiction

Sun Dehan, Chairman of the CPPCC Qingdao Municipal Committee

The motion highlighted a spreading phenomenon that is posing a threat to the physical and mental health of youth-Internet addiction.

The motion said a survey conducted by the CPPCC Qingdao Municipal Committee found that 8.5 percent of polled primary and middle school students had developed an addiction to online games due to lack of self-control. The motion blamed this on two major reasons: the inadequate implementation of national policies that supervise Internet industries and lax regulations for online games.