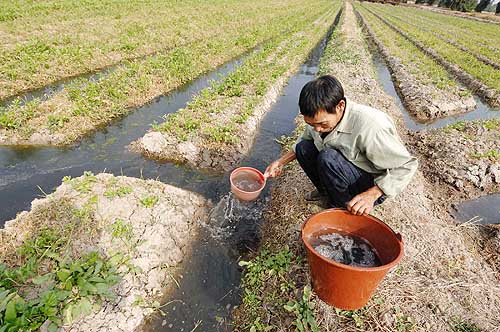 BLACK EARTH: A farmer removes polluted water from irrigation channels carried in by floods in Putian, Fujian Province (JIANG KEHONG) 
South China's Guangxi Zhuang Autonomous Region has one of the country's biggest reserves of arsenic and lead, which are important resources for industry. Due to contamination by unrestricted discharges of mine tailings into the environment and other stresses, it has also been shown to contain soil polluted by a range of poisonous substances.
Soil pollution has become a headache for many other local governments besides Guangxi. And now experts are racing to learn how to control the pollution and reclaim contaminated earth. The subject was the center of a recent symposium on soil recovery in Guangxi.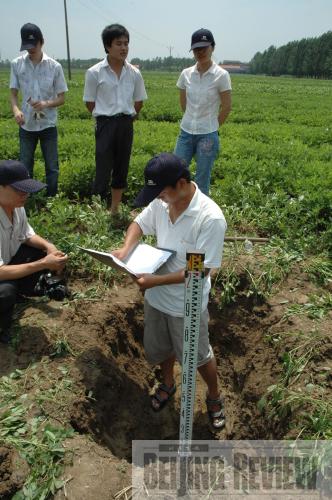 DEAL WITH SOIL: Staff of environment protection department in Linshu County of Shandong Province collect soil samples for research purposes (CNSPHOTO)

Unlike water and air pollution, soil contamination is invisible to citizens and is often overlooked. But if left untreated, it can take thousands of years for the ground to recover naturally.

Crops absorb the poisons in the soil and pass them into the human body, said Luo Yongming, a research fellow at the Nanjing Institute of Soil Sciences. Luo said volatile substances like benzene and formaldehyde can easily be taken into the body through air and breath; and kids can swallow the pollutants as they play outside. Experts said either direct soil pollution or it being passed up the food chain will result in immune system problems or cancers.

Even with the danger it entails, it seems that soil pollution doesn't receive nearly as much attention as it deserves. People's primary concerns are self-sustenance and making a living. So they concern themselves with harvesting food from the earth and forget about soil preservation. They misguidedly think that soil can adjust itself. At the same time, erosion and soil damage prove to be big problems in their own right.

"When old factories are relocated, they just dismantle the houses, carry away the machines and nothing else is left to be done. The land that used to be a production site either is turned into farmland or real estate. Few understand that this land has become sick," said Zhao Qiguo, an academic at the Chinese Academy of Sciences' Institute of Soil Science. He said soil must be tested for pollutants after an industrial site is reclaimed for other uses. Currently Zhao and 30 other experts are working on a soil protection strategy.

Special Forces

On April 17, scientists attending the symposium on soil recovery traveled to a prefecture in Guangxi for an inspection. The region suffered heavy flooding in 2001 that carried acids and heavy metals onto farmland, which led to widespread crop failures. Four years later, the local government invited geologist Chen Tongbin to inspect the polluted land and work on a recovery plan. Scientists have developed recovery technologies and models that are suitable for local soil conditions. They established a 6.7-hectare demonstration site as well. Since the reclamation project began, the untreated land still has nothing growing on it, while the treated land has been planted with sugar cane that is growing well.