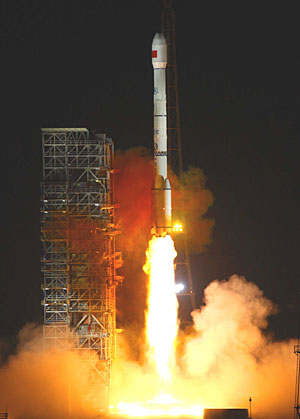 SPACE SHOT: China's geostationary navigation satellite, Compass G2, is launched on April 15, 2009, aboard a Long March 3C rocket (LI GANG)
Major Functions of the Beidou System
· Offering real-time location services in all-weather conditions for clients in the service area.
· Offering short communication messages of up to 120 Chinese characters each.
· Calculating users' locations precisely using state-of-the-art technology.
Characteristics of the Beidou System
· It offers both location and communication services, which allows clients to exchange information between each other with no other communication system. Its combination of location and communication functions makes the system better suited for rescue missions.
· It covers China and surrounding countries and regions without dead zones.
· The system's development domestically ensures that it is more reliable and can keep proprietary information secret.
U.S. Global Positioning System:
Global Positioning System (GPS) is a global navigation satellite system developed by the United States Department of Defense and managed by the United States Air Force 50th Space Wing. It became fully operational in 1993. The system allows users to determine their positions within a few meters.
Russian Glonass:
Glonass, a Global Navigation Satellite System, is the Russian version of the U.S. Global Positioning System and is designed for both military and civilian use. It allows users to determine their positions within a few meters.
EU's Galileo:
The Galileo project, launched in 1999, is a joint initiative of the European Commission and the European Space Agency. Under the agreement signed by the EU transport ministers in November 2007, Galileo will be put into operation by 2013.
(Source: Xinhua News Agency)