LEARNING SKILLS: A pastry cook (far left) teaches laid-off workers how to make crescent-shaped dumplings. The program is part of government efforts to combat unemployment (SUN SHEN) 
Since the founding of the People's Republic of China in 1949, Chinese society has undergone a dramatic transformation, particularly in the 31 years since the country adopted the reform and opening-up policy in late 1978. China has gradually shifted from a predominantly agrarian country to an emerging industrial nation with an ever-increasing level of urbanization. Having received classification from the World Bank as a lower middle-income country, after previously being listed as a low-income country, it is marching toward a more modern society.
China's population structure has gone through a historic transition. It now features a low birth rate, low death rate, and low growth rate, with average life expectancy reaching the level of a moderately developed country. China, once a country suffering from overpopulation, has become a nation with rich human resources. It has lifted hundreds of millions of Chinese out of poverty, making significant contributions to the global poverty alleviation effort. It has also created a social security net, covering not only urban residents, but also those in rural areas who have never before had social security protection.
Government action
In the early years of the People's Republic of China, the Chinese people lived in complete destitution, as the country was ravaged by the scourge of war. Under the leadership of the Communist Party of China (CPC), China swiftly resumed economic development, stabilized consumer prices and improved people's livelihoods. With steady economic growth, social development made great strides. Even before China adopted the reform and opening-up policy in 1978, people's living standards had been improving steadily, as the country experienced relatively full employment. The government put in place social security, education and healthcare systems in line with the progress of industrialization.
CHEERFUL EVENT: Residents in Kuche County, Xinjiang Uygur Autonomous Region, prepare to go shopping during Bazaar Day (SHEN QIAO)
In spite of these achievements, China experienced many setbacks in social development due to the chaos caused by the "cultural revolution" (1966-76). After it adopted the reform and opening-up policy, China shifted its top priority from class struggle to economic development. The fast economic growth since then has propelled an unprecedented level of development in social undertakings.
To date, the Chinese Government has adopted a series of policies guiding China's social development:
Its population policies encourage a low birth rate and the improvement of population quality, while seeking to perfect the overall population structure in an effort to address the aging of its population. Stimulating the rational movement of human resources, as well as promoting the all-around development of the Chinese people, is also a primary concern.
In its employment policies, China adheres to a proactive approach that focuses on expanding employment by building a unified labor market in both rural and urban areas. Its employment service system encourages the employment of the newly added work force in urban areas and rural surplus laborers, and the reemployment of laid-off workers.
China's labor relations policies protect the legitimate rights and interests of laborers. It has established a mechanism through which the government, trade unions and companies jointly coordinate labor relations. The current harmonious labor relations are conducive to both workers and employers, leading to win-win situations.
Regarding income distribution policies, China has adopted a distribution system that values work performance. Labor, capital, technology, managerial expertise and other production factors should have incomes distributed according to their respective contribution. It strives to raise the income of low-income groups, expand the proportion of middle-income groups, effectively regulate excessively high incomes and place bans on illegal gains. All this is aimed at narrowing the income gap and achieving common prosperity.
China's social security policies, covering both urban and rural residents, are based on social insurance, assistance and welfare. While focusing on basic old-age pension, basic medical care and basic-living guarantee system, they are supplemented by charitable contributions and commercial insurance.
Urban and rural management policies are designed to balance development between urban and rural areas, implement the principles of "industry supporting agriculture" and "cities helping villages," and eliminate urban-rural disparities. Reforming the household registration, employment, social security, healthcare, and housing systems to narrow the gap between urban and rural areas has also been a priority of government plans.
China gives priority to educational development, uplifting students' all-around qualities. Its policies underline the government's responsibility to ensure compulsory education, popularize nine-year compulsory education programs, strive to develop vocational education, advance the quality of higher education and attach great significance to education equality, all in an effort to build up a thoroughly educated society.
Healthcare policies, as effective as they have become over the years, need further reform. The government should take full responsibility to supervise the progress of the reform and build up a basic healthcare system that benefits both rural and urban residents in a bid to provide safe, effective, convenient and affordable medical services to the public.
Public security policies have always been a priority, and China has established a public security system, covering public order, food and drug safety, workplace safety, traffic safety, and disaster relief. Adhering to the rule of law, China implements justice for criminal, promotes citizens' participation in helping to maintain public security, protects human rights and safeguards normal social order.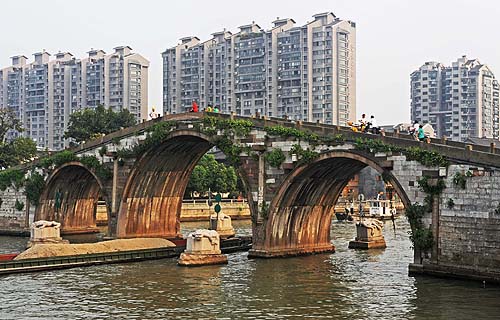 BRIDGING THE CITY: The 378-year-old Gongchen Bridge, above the Beijing-Hangzhou Canal, and its surrounding buildings show a beautiful combination of modern and ancient Hangzhou (TAN JIN)

According to the Chinese Government's environmental protection policies, China gives priority to the protection and orderly development of natural resources, and the control of irrational exploitation. It emphasizes the importance of taking precautions, addressing environmental problems in a comprehensive manner, and tackling pollution at the source, and has committed itself to building an energy-saving and environmentally friendly society.

The importance of social development and the implementation of public policies took hold gradually in China. After the founding of New China in 1949, socialist priorities mainly focused on three fields—politics, the economy and culture—while not much attention was given to social development.
RISING VILLAGES: A park, funded by the government to provide green space in a farming community, is surrounded by traditional houses in Xinweizhuang Village in Zhejiang Province (XINHUA) 
As China made economic improvements, the need to balance economic and social development became increasingly pressing. In a report to the 12th National Congress of the CPC held in 1982, great significance was attached to improving people's livelihoods.
In December 1982, the Fifth Session of the Fifth National People's Congress changed the Five-Year National Economic Development Plan, which had been executed for 25 years, into the Five-Year Plan for National Economic and Social Development, effective from the sixth five-year plan. Since then, the government has paid close attention to both economic and social development.