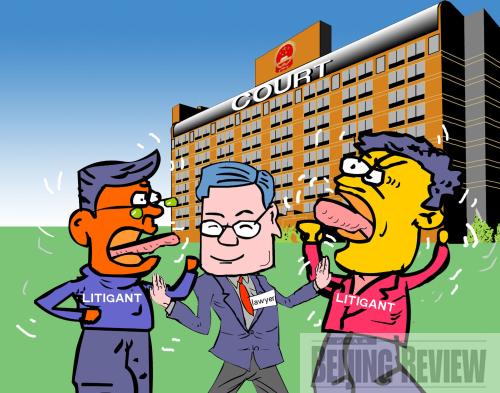 (LI SHIGONG) 
On September 1, the Henan Provincial Department of Justice and the Henan Higher People's Court jointly issued a document. It suggests lawyers do as much as possible to mediate between litigants involved in lawsuits of civil disputes and misdemeanor lawsuits, in order to help them reach out-of-court settlements.
The news sparked heated debate among the people, even though the Henan local judicial authority stressed that by encouraging out-of-court mediation, it simply wanted to limit lawyers' ambition for higher profit and promote justice and social harmony by offering better service to the parties involved in legal cases.
But some people are suspicious.
The most striking difference between litigation and mediation is, while litigation means to achieve justice and fairness through judicial means, mediation means to discourage judicial intervention. Those who oppose lawyers' mediator role believe that it will undermine justice and fairness. Mediation supporters do not deny this point, but they believe that, as long as they do things in accordance with legal regulations, the mediation process will be fair.
Some legal experts argue that most people do not understand the mediation process well. First, mediation has always been a procedure in litigation, with judges as mediators. Second, despite the disputes over it, mediation has long been a widely acceptable practice in the international judicial community.
Retrogressive measure
Xu Guangmu (www.china.com.cn): For those who work in the legal community, "the law" is the only "God" in their hearts. Whatever they do, they will act strictly in accordance with the law and no other principles except legal stipulations will serve as their guide. Why do we have lawyers and why don't we let judges face litigants directly? Because the public needs assistance from lawyers when their rights and interests are violated. They need professional lawyers who can represent them in their lawsuits.
To some extent, mediators do nothing but temporarily cover up disputes that have already emerged. They do not try to tackle the roots of disputes. In this case, the only way to solve the problem is to turn to legal proceedings.
Actually, as far as lawyers are concerned, if they really want to help the parties involved in lawsuits, they should choose to actively work on litigation, since this is the way to thoroughly settle disputes. If they are afraid of going to court and want to avoid lawsuits and hope to be mediators in all of the legal cases, it is irrational and is against the basic demands of the rule of law.
Peng Xu (Yanzhao Metropolis Daily): In a society ruled by law, disputes are supposed to be settled first through legal proceedings, not privately. Since the state has established judicial organs and people have already developed confidence in and respect for the country's legal system, why do we still encourage out-of-court mediation so enthusiastically?
By issuing the call for more out-of-court mediation efforts by lawyers, the Henan local judicial authority means to reduce the cost of lawsuits and better maintain social harmony. If the procedure to deal with lawsuits is excessively complicated and time-consuming, why doesn't the local judicial authority try to reform and improve this outdated system? Encouraging out-of-court mediation will reduce the number of small lawsuits. But no matter how small the cases are, by no means should courts kick back lawsuits by overemphasizing the significance of non-litigation means.
Besides, if out-of-court mediation is not done fairly, then it will give birth to new disputes. It is the judicial organ's duty to deal with people's lawsuits through strict legal procedures.
Wang Yanling (Liaoshen Evening News): If lawyers all become mediators, the result will be terrible: Courts will shrug off their responsibilities, lawyers will worry about their income and litigants will spend long periods of time waiting. Besides, if lawyers are mediators, the public will feel that the authorities hope to solve their disputes not through legal procedures but in a private way. In order to make the whole society respect the law, we need strict procedures for lawsuits in addition to mediation.
Though the Henan local judicial authority stressed that lawyers were only encouraged to mediate lawsuits of civil disputes and misdemeanor lawsuits, its call is still irrational. Whether a case is criminal or civil, the parties involved should be asked to take on corresponding liabilities. Some disputes can be settled through out-of-court mediation, but some can't and must go through legal procedures. Lawyers' importance is striking in this situation.
Lawyers' mediation and strict legal procedures are both designed to settle disputes. The key to increase social harmony is to improve the country's legal system, not for lawyers to persuade litigants to give up their litigation.
Bi Xiaozhe (xhby.net): As we all know, it is lawyers' job to deal with lawsuits, just as doctors treat patients. Whenever there are lawsuits, lawyers should go to court together with the litigants. There is no excuse for retreating.