No gender issues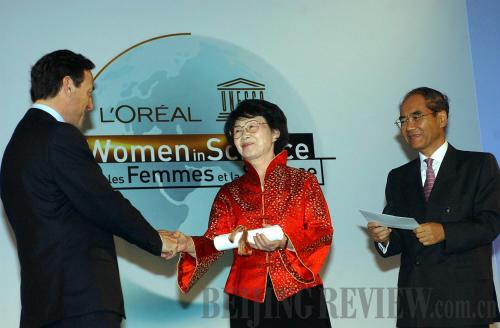 HIGHEST HONOR: Li Fanghua, an academician with the Chinese Academy of Sciences, is honored with the World Outstanding Female Scientists Awards by the United Nations Educational, Scientific and Cultural Organization on February 27, 2003 (CHEN LIQUN) 

"Physics has no discrimination as to sex. As long as you like it, it will be suitable for you," said Li Fanghua, an academician with the Chinese Academy of Sciences, the highest scientific institute in China with more than 15,000 female scientists.

Li, born in 1932, entered the field of physics when she was 17 and became China's first scientist engaged in high-resolution electron microscopy.

"She made big contributions to image processing technology and combined high-resolution electron microscopy with electron diffraction analysis," said C. Bougerol Chaillout, a French scientist, after reading Li's research in 1994.

In the early 1930s, Ernest Ruska, who won the 1986 Nobel Physics Prize, and his colleagues invented the first electron microscope. Since the 1970s, scientists have seen atomic groups or even individual atoms through electron microscopes. History had entered the age of high-resolution electron microscopy.

But high-resolution electron microscopes were not perfect and had many defects. Crystal structure seen through a high-resolution electron microscope may be totally different from the real crystal structure.

Li brought diffraction crystallography into high-resolution electron microscopy, successfully solving these problems.

"Women have their own advantages compared to men. With more women being engaged in sciences, they make the whole scientific research community more colorful with their unique and creative thinking," said Zhang Tunan, a professor at the University of Southern California. He said he thought the number of male scientists and their potential had reached an extremity, but the population of female scientists was still small so that they were a growing resource of intelligence for the development of science.

Li was elected as one of the "Top 10 Outstanding Women" of the Chinese Academy of Sciences in 2001. She was also the winner of 2003 World Outstanding Female Scientists Award granted by the UN Educational, Scientific and Cultural Organization. Seen as the Nobel Prize for worldwide women, this award is a recognition for the lifelong achievements of a female scientist.

"The scientific achievements are inseparable from scientists' growth environments," Li said. She attributes her success to her mathematics and physics teachers in middle school and at her university.

She also said her mother had a profound influence on her. "From her I learned how to conquer various difficulties in life, and she also taught me that if a woman does not receive education she will not find her place in society," she said. "A woman must have her own career."

Enjoyment

"Science helps me experience a more colorful world," said Li Xiaoying, a professor with the College of Precision Instrument and Opto-Electronics Engineering of Tianjin University. She was one of the winners of this year's Young Female Scientists Awards.

"Ups and downs in research are helpful to cultivate patience and confidence," she said. She has a 40-square-meter laboratory, which she has decorated like a home. She said she believed women could do as well as men in scientific research.

"Exploring the secrets of the ocean of science is my joy and happiness every day," said Li Baohui, a professor with the Institute of Physics of Nankai University. She also won the Young Female Scientists Awards of this year.

She said that a main reason for the current imbalance of men and women engaged in scientific research was that women played different roles in life than men. "It is important for female scientists to find a balance between science and their own lives."

Imagination played an important role in her life, said Yu Jihong, a professor with the College of Chemistry of Jilin University, another winner of this year's Female Scientists Awards. She said she has always enjoyed her work and life. Currently, she is teaching 30 students for master's or doctoral degrees.

"I love science, so I am always trying to make it more fashionable and beautiful," she said. Her elegance and intelligence impress people around.

But an investigation by NetEase, one of the leading portals in China, last year showed that only 7 percent of men preferred "smart women."

Hou Yamei was a winner of the First China Young Female Scientists Awards in 2004. She is a scientist who is interested in and always pays attention to her appearance.

"I don't think scientists should devote all their time to their work. They are also ordinary people and are allowed to pursue fashion and beauty," she said.

As a researcher with the Institute of Vertebrate Paleontology and Paleoanthro-pology of the Chinese Academy of Sciences, she has made a great contribution to the research of paleoanthropology. In 2000, one of her articles was selected as the cover story for Science magazine. In the article, she refuted a long-time hypothesis—Homo erectus in the area of East Asia were less intelligent and adaptive than those in Africa, arousing a great sensation around the world and driving scientists to reevaluate the origin of Asia's human civilization.

"Archaeology is similar to detective work. It needs clues, reasonable inference and proof," said Hou.

Although she likes beauty, she will go into the wild to seek samples. "Sometimes, difficult and bitter experiences will make your work more beautiful and romantic," she said.