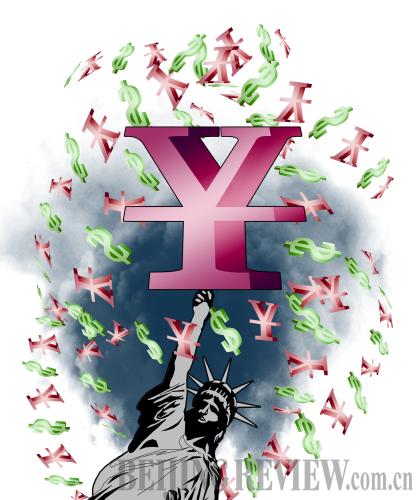 (LIU ZHOUJUN) 
On both sides of the Pacific, the heat in a protracted dispute over China's currency renminbi, or yuan, is rising quickly. While the United States pushed for a sharper increase in the yuan's value while threatening to slap duties on importing Chinese products, China cedes little ground on its currency policy. But before concerns turn into full-fledged fears, it is worth asking what will happen if China strengthens its currency. In different media, economists and entrepreneurs from home and abroad provided answers. Edited excerpts follow:
A Stronger Yuan Hurts Chinese Farmers
Joseph Stiglitz, a Nobel Prize-winning economist at Columbia University
The exchange rate adjustment, especially between the United States and China, would not help cut the U.S. trade deficit. One way of tackling the problem, however, is to loose restrictions on high-technology exports to China.
If the yuan is allowed to appreciate, China will have to pay less for imports and that means the international prices of some agricultural products like rice and wheat will go down. This is obviously harmful to Chinese farmers and may further exacerbate the problem of the widening urban-rural income gap in China.
So China should protect itself by making sure the exchange rate does not appreciate, otherwise it will have to provide subsidies to its farming population.
It is therefore necessary for China to maintain the yuan's stability and at the same time pay attention to other risks, such as safety concerns of its foreign exchange reserves in U.S. dollar assets.
A Note of Caution
Robert Mundell, a Nobel Prize-winning economist at Columbia University
There is no problem with the yuan exchange rate. As a matter of fact, its stability could help the world economy out of the financial crisis. China's currency pegging to the U.S. dollar is not manipulation, but a reasonable policy in line with its economic realities.
Appreciating the yuan will devastate the livelihood of poor people throughout China and take shine off its appeal to foreign investors. Worse still, as the euro's experience illustrates, volatile exchange rates could stir up waves in global financial waters and leave space for speculation.
Since the 1990s, the yuan has stayed relatively stable against the U.S. dollar, providing a stabilizing force for the world economy. Given the present size of China's economy, the currency now plays an even larger role in global recovery efforts.
If the United States labels China as a "currency manipulator" and imposes restrictions on Chinese exports, there will be serious consequences for both sides.
Lose-Lose Situation
Stephen Roach, Chairman of Morgan Stanley Asia
A sharp upward revaluation of the yuan would lead to a disastrous outcome for the United States, and it would end up as a "lose-lose situation" for both Washington and Beijing.
The currency adjustment that is being suggested by the West is the wrong way to go. If China were to adjust its currency sharply, the Chinese share of the U.S. multilateral trade deficits would shift to another country, a higher cost producer, which would have the effect of imposing a tax on American workers that the politicians are in theory trying to protect.
It's ironic that the United States blames China's currency for its high unemployment rate and trade deficit. Trade sanctions on China would only produce disastrous results for the United States.
The U.S.-China bilateral trade deficit has very little to do with the renminbi. It reflects the fact that America does not save and countries that do not save have to import surplus savings from abroad.
U.S. politicians did not want to accept their responsibilities for the unemployment rate, which was close to 10 percent, so they preferred to blame someone else.
The United States had trade deficits with more than 90 countries in 2008. The biggest bilateral deficit was with China because of U.S. multinationals' outsourcing strategies and because American consumers demanded low-price high-quality goods made in China.
The Yuan as a World Currency
Jim O'Neill, chief economist at Goldman Sachs Group Inc.
The renminbi's importance is greater than people in the West realize. While formerly undervalued, the currency's worth is not taken lightly anymore. It's unfortunate that we have so much political angst around this issue.
China's yuan is destined to become a global reserve currency rivaling the dollar and the euro, as the nation's economic power increases the currency's allure.
The Chinese Government will eventually allow the yuan to trade freely on foreign-exchange markets. As China moves in this direction, other large emerging economies will presumably move in the same direction and the end result will be something similar to today's Western monetary system. Under such a system, the renminbi, dollar and euro would all form the pillars of the world's currency markets.
Unnecessary Appreciation
Daniel Griswold, Director of the Center for Trade Policy Studies at the Cato Institute
A stronger yuan would not be a fix-all tonic for the U.S. economy or manufacturing and it would be a huge mistake to raise tariffs on imports from China to force a change in the yuan.
China has been moving in the right direction since 2005 by allowing its currency to appreciate. Threats from the U.S. Government actually make it more difficult for the Chinese Government to resume appreciation because it would look as though Beijing was giving in to foreign pressure.
China would remain competitive in a broad range of manufactured products even if the yuan were 25 percent higher. The dollar depreciated sharply against the currencies of Canada and the euro zone after 2002, yet our bilateral deficit with both those regions continued to grow.
American families benefit from affordable consumer products from China, while U.S. companies benefit from exports to China. And all Americans benefit from lower interest rates from Chinese investment in U.S. Treasury bonds.