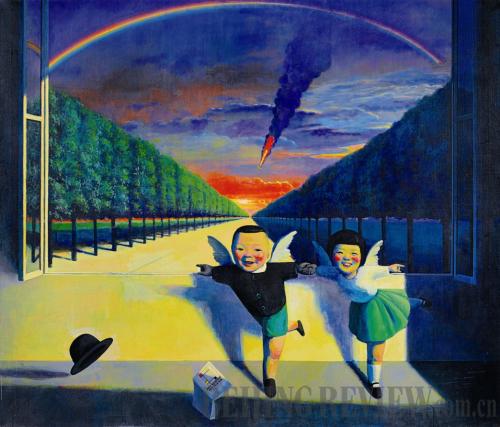 Bright Road, Liu Ye (COURTESY OF SOTHEBY'S)
There was no sign of economic depression at Sotheby's auction, "Fine Chinese Ceramics and Works of Art", held in New York in March.
The 1692 masterpiece, Two Mynas on a Rock by Ba Da Shan Ren, a renowned Chinese painter of the Qing Dynasty (1644-1911), sold for $2.99 million, approximately seven times the pre-sale estimate of $400,000 to $600,000.
The auction was held during the New York Asia Week on March 20-27. The cultural event's annual round of sales, exhibitions and lectures drew art dealers and collectors from all over the world to the city.
Henry Howard-Sneyd, Vice Chairman of Asian Art at Sotheby's, said that the price paid for the painting was "a reflection of its compelling beauty."
He said the art house was thrilled to have set a record for a classical Chinese painting sold in the United States. "This masterful depiction of two birds has not appeared on the market for more than 25 years," he said.
Sotheby's realized a combined total of $14.4 million from the sales of 247 pieces at the Fine Ceramics and Works of Art auction.
"The results were amazing and beyond expectations," Mee-Seen Loong, a senior consultant of Chinese art at Sotheby's told Beijing Review.
Howard-Sneyd said the sales were "stunningly successful," and "demonstrate the appetite for fresh to the market works priced conservatively."
Sotheby's is by no means the only big retailer of Chinese art in New York. Global auction house Christie's reaped $22.6 million from selling 322 pieces of fine Chinese ceramics and works of art, including property from the Arthur M. Sackler Collections, during the week.
People entered strong bids at the auctions, with works selling from $2,500 for a grisaille porcelain snuff bottle to $2.3 million for a large white 18th-19th century jade figure of Buddha.
Sotheby's and Christie's are currently the largest auction houses for Chinese works of art outside of China, Loong said.
In vogue
Chinese art has long been loved by Western collectors looking for exotic pieces. Since the late 19th century Sotheby's often conducted special auctions of Chinese art.
Buyers of Chinese art in the United States are collectors from many different professions as well as dealers who "appreciate the whole spectrum of Chinese art" such as Neolithic pottery, archaic bronzes, Song (960-1279) to Qing (1636-1911) dynasties' porcelain, classical furniture and contemporary art, Loong said.
Chinese contemporary art has also become an area in which Westerners are taking a great interest. The first wave of the craze for Chinese contemporary art started in 2004, said Dr. Iain Robertson, Head of Art Business Studies of Sotheby's Institute of Art, in an interview with Beijing Review.
"China is going to be a very powerful country and it makes sense to collect the art of a very powerful and potentially rich country," he said.
His opinion was echoed by Howard-Sneyd, who said Westerners were becoming increasingly interested in China and Chinese people. "They want to know about China and they're fascinated by the country," he said and he remembers the time of the burgeoning interest in China.
Howard-Sneyd said Sotheby's had its first auction on contemporary Asian art in Hong Kong in 2004, when China was "on the front page of every day's newspapers" and "in front of everybody's minds." He said there was strong American bidding for contemporary Chinese works at the auction, and he began to think of a New York sale. It took about a year and half to set up New York's first sale of contemporary Asian art in 2006.
At Sotheby's Hong Kong Contemporary Asian Art Spring Sale 2010, the auction house achieved a total of $18.6 million, far exceeding the high estimate $16.3 million. Chinese painter Liu Ye's highly sought-after early work Bright Road fetched an impressive $2.45 million after a round of intense bidding, achieving a world record for the artist at auction.