Larry Warsh
Larry Warsh, an experienced art collector and dealer in New York, has been involved in the art world for more than 25 years. Since 2000, he has focused on collecting and championing contemporary Chinese art. In 2007, he founded AW Asia, a private organization dedicated to the promotion of contemporary Chinese art through institutional loans and museum acquisitions, curatorial projects, publishing and educational programs.
In an interview with Beijing Review reporter Chen Wen, Warsh shares his thoughts on collecting Chinese art.
Beijing Review: When did you start to collect Chinese art?
Larry Warsh: I have been involved in the art world as a collector, publisher and advisor for more than 25 years. I started with Western contemporary artists during the 1980s and 1990s. Later, in early 2000 I began collecting contemporary Chinese art. The market in the early stages was the United States, and there had been earlier activity in Europe (such as the Netherlands, Italy, France and Switzerland). At that time there were very few serious collectors of contemporary Chinese art.
How did you become interested in Chinese art?
I was always interested in China. In 2000, I began traveling there. I had a chance to meet many of China's leading artists and I was extremely impressed with their integrity and vision, so I began collecting their works before the market for contemporary Chinese art became an international focus. Having been exposed to the first generation of historical artists, both painters and photographers, it seemed like the right thing to do.
How does AW Asia promote contemporary Chinese art?
AW Asia is a private organization promoting contemporary Chinese art. In the last few years we have sold collections of contemporary Chinese photography to the Museum of Modern Art in New York, The Getty Museum in Los Angeles, and we are about to announce a further acquisition by a major New York museum. This is an opportunity for AW Asia to act as a "go-between" to place important iconic works by Chinese artists in permanent collections of leading museums. This is beneficial for the entire field of art.
AW Asia's mission is to bring contemporary Chinese art to a wider audience, so sourcing is only one side of the picture. It's more about creating a proper history for leading China's artists of the 20th and 21st centuries. They deserve their place in the global history of art, and AW Asia was established to help make that a reality.
What was your first collection of Chinese art?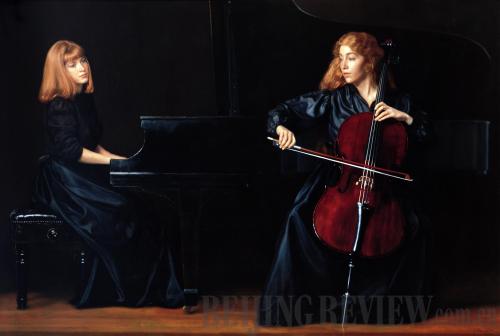 Duet, Chen Yifei (CNSPHOTO) 
The first work of Chinese art I acquired was an early 1990's Wang Jinsong oil painting and this work is still in my collection. I purchased it for a few thousand dollars. Yes, I am still collecting contemporary Chinese art and I am always looking to increase my collection, but it is now harder to find good quality work.
What is the current price range overall for Chinese art in the Western market? Are they undervalued, overvalued or reasonably priced? In terms of investment returns, are they still a good buy?
I buy the work of artists who most interest me and whose value is strong, which are normally from the 1990s, the foundation for the Asian/Chinese contemporary art market. In terms of the market, I believe contemporary Chinese photography provides significant buying opportunities. It is still undervalued relative to painting, which was the focus for collectors for many years. Quality works will become increasingly scarce, particularly as China develops as a consumer society with its own collector base. The Chinese audience with a discretionary income is growing, and a consistent percentage of those people will become art advocates and collectors.