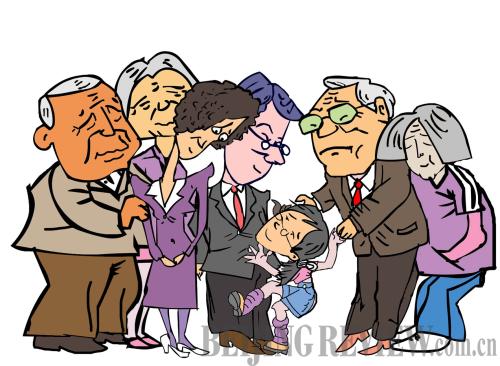 (LI SHIGONG) 
Proposals to change China's family planning policy were put forward during the recent sessions of the National People's Congress (NPC) and the Chinese People's Political Consultative Conference (CPPCC) by a number of NPC deputies and CPPCC members. China currently faces sharply decreasing input into its labor force, a rapidly growing ageing population and an imbalance in male and female births. The NPC deputies and CPPCC members suggested changing the current one-child policy to a policy of "encouraging the birth of one child, allowing two children and forbidding three children."
This proposal is widely supported by the public.
NPC deputy He Youlin submitted a proposal during the NPC session to allow a couple to have two children, saying, "it's high time to change the current family planning policy," due to the occurrence of a number of new population-related problems, such as accelerated growth of the ageing population, mounting pension payments, and the recently appearing "shortage of migrant workers."
All of the problems are partly related to the one-child policy and, in the long term, these factors may affect economic growth, the deputy argued.
A country where people aged 60 or older account for more than 10 percent of the total population, or those aged 65 or older account for more than 7 percent of the total population, is defined as an ageing society. In an "ageing society," if the proportion is more than 14 percent, it is called an "aged society." China's 2000 census shows the country has already become an "ageing society." United Nations statistics indicate China will become an "aged society" in 2025.
Can the problem of an ageing population be solved quickly if two babies are allowed to one couple? Is now a window period to adjust the current family planning policy? Should China continue its one-child policy?
Immediate suspension
Wang Feng (www.caing.com): First, we must make clear the one-child policy is not directly responsible for the ageing society. Some people take it for granted the suspension of the one-child policy will immediately reverse China's ageing trend, but there are many reasons that help push up the proportion of the elderly in the whole population. To a certain extent, China's large ageing proportion is a result of a sharply decreasing birth rate during past decades. It means if we stop the one-child policy now, although we would not expect to see changes immediately, the population structure will improve in several decades. It will help relieve pressure from population ageing and even negative growth of the population. It is now therefore urgent to halt the one-child policy.
If we continue the one-child policy, we are likely to face these challenges: negative population growth, heavy pressure on pension finance, labor shortages and heavier responsibilities on young family members. All these could result in severe social and economic problems.
China began to implement the one-child policy in 1979, and it was said to be a "temporary measure in a special time." From then on, huge changes have occurred in the country's fertility rate and population structure. It's no longer a time when the implementation of a stringent birth-control policy is necessary, so an adjustment to the current population policy is required.
Indeed, today's China still needs to maintain a low fertility rate, but this does not mean a stringent one-child policy. The country should allow some families to have two children. Even if two children are allowed, China's population is expected to peak in 2030 and then slowly start to drop.
In the past 20 years, China's total fertility rate has been lower than 2.1, which means, China's total population will begin to fall, with the population of each generation becoming less than the previous ones.
Officially, China's population policy is to be kept stable on the whole while small changes in accordance with special local conditions will be allowed. But in many places, this policy has not been put into practice.
The population policy should be implemented more flexibly in different regions. Take Shanghai, for example. The city has long enjoyed the lowest birth rate in the country and continually maintains a negative population growth rate. In this city, the one-child policy could be changed into a two-child policy.
Currently, China allows rural couples who have only a female child and couples who are both "only children" to have two children. In the future, cities like Shanghai, with low fertility rates, will probably also begin to allow a two-children policy. Gradually, more places are going to enjoy this policy. In this way, we can avoid sharp population growth and balance regional growth.
Based on present conditions, China's population will not inflict any pressure on the rest of the world and will no longer constrict China's sustainable development in coming years. Therefore, it's necessary for the government to reconsider the family planning policy from the perspective of the country's long-term interests and each family's immediate interests. To relax control on population growth properly will help to deal with the increasingly serious problem of a decreasing population in the future.
Ye Tingfang (Shanghai Business Daily): It's human nature to play or even fight together with their siblings. This is the kind of primitive condition a child wants to grow up in. Although they are cared for by parents, still they might feel lonely when they have no siblings to play with. Sociologists point out an adult's sense of abiding by game rules in social life is developed during their games with siblings in childhood.
Parents' love for an only child is a "double edged sword": the strong love will probably spoil children and encourage children's laziness and capriciousness. Many of today's children growing up in a one-child family are somewhat indifferent, selfish and fragile in character, and this is only the first generation following the adoption of the one-child policy. What will happen in the second and third generations?
Ageing society is also an unavoidable result of a one-child policy. If the current population policy continues, there will be a decrease of 100 million in the labor force aged 18 to 50. By then, China's society will become less active, and the strong momentum in economic growth will slow down.