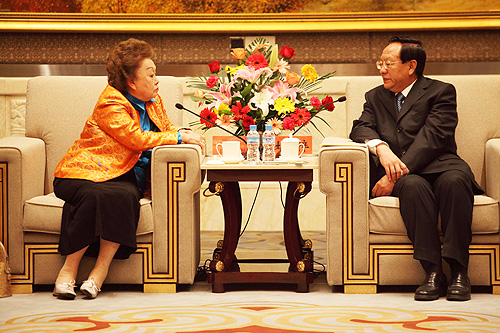 A GROWING RELATIONSHIP: Anna Chennault, Chair of the Council for International Cooperation, meets with Du Zi, Secretary of the Ordos Municipal Committee of the Communist Party of China, in Ordos on April 3 (WANG LEI) 
China's vast hinterland has long conjured up images of rugged mountains and countrysides dotted by villages all but untouched by the hands of time.
But after a recent one-hour flight west from Beijing, Anna Chennault, Chair of the Council for International Cooperation (CIC), a Washington, D.C.-based non-profit organization that helps promote development in China, found something altogether different—a city called Ordos.
Indeed, with its fast-paced outlook and stylish veneer, the burgeoning inland city took the Chinese-born American and other members of her entourage by surprise.
High-rise buildings as well as construction cranes pepper the skyline in the newly developed area of the city, while in its older downtown neighborhoods in the east, many houses have been razed for new development.
Ordos represents an epitome of China's changes over the last three decades. These changes, emblematic of an emerging China, are things that Chennault has hoped to see since childhood.
A big difference
"I've come back to China frequently over the last 30 years," Chennault said, "so I have seen China's improvement in every area—economically, politically, and in world affairs."
Chennault, the widow of U.S. military aviator Lieutenant General Claire Lee Chennault, first revisited the mainland in 1980, shortly after China adopted its reform and opening-up policy aimed at reinvigorating the country's stagnated economy. During the 10-day trip, she toured both Beijing and Shanghai, meeting government officials as well as ordinary residents. Although they lived a hard life, she recalled, the Chinese were imbued with a strong belief that their nation would have a bright future. In her view, this belief, coupled with hard work and perseverance, has since led to a rapid economic takeoff.
"I am very impressed by what China has done to improve living conditions," she said.
The development patterns of Ordos—a resource-rich city of 1.59 million people—offered a textbook example.
Since China introduced its economic reforms—and especially since the Central Government initiated its program to develop the western region a decade ago—Ordos has transformed itself from an agrarian backwater into an industrial hub in the southwest of Inner Mongolia, according to Du Zi, Secretary of the Ordos Municipal Committee of the Communist Party of China.
The city has embraced its newfound prosperity by developing industries such as coal mining and wool processing. In the past, by contrast, farming and animal husbandry constituted the bulk of its economy. During the transition, it has also lent great importance to environmental protection, resource conservation and technological innovation, Du told Chennault at an April 3 meeting.
By transforming cultivated farmlands back into forests and grasslands, Ordos has been able to raise its vegetation coverage rate to 75 percent this year, up from 25 percent in 2000—efforts that have helped to curb the spread of desertification in the region, he said. This is no small feat, as there are two deserts facing Ordos—the Mau Us Desert and the Hobq Desert.
At the same time, local living standards have improved dramatically—something that can be seen in the modern residential quarters sprouting up throughout the city.
In 2009, for instance, urban residents' per-capita disposable income exceeded 21,000 yuan ($3,088), while rural residents' per-capita net income yielded more than 7,800 yuan ($1,147). The two indexes stood at 17,175 yuan ($2,526) and 5,153 yuan ($758) for urban and rural residents throughout China respectively in the same year.
What China has achieved in recent decades is remarkable, given the fact that the country failed to experience a full-scale Industrial Revolution akin to that of Western countries in the 19th century, said Irving Kaufman, Vice Chairman of the CIC.
For the better part of the last two centuries—as the United States underwent its own breakneck industrialization—China, was mired in chronic upheaval, including wars, that led it to seal itself off from the outside world, he added.
When she was a college student she looked forward to a day when China could rise to gain an important status in the world community, Chennault said. And now she feels her dream has come true.
Chennault, who has traveled extensively in China, said she often shares what she has seen and heard in China with her American friends who have yet to visit the country, including lawmakers in both houses of Congress.
On her return home, Chennault will give reports on the China's efforts to improve the livelihoods of its people, while sustaining economic growth and promoting education—issues of great interest to many Americans.