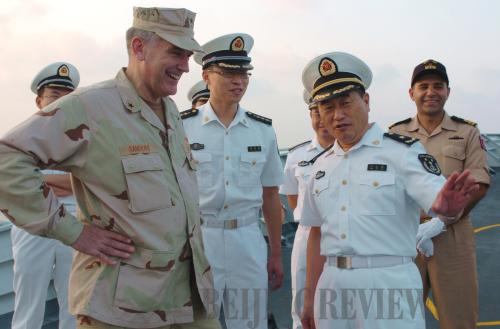 SEAWORTHY: Commander of U.S. Combined Task Force 151 Scott Sanders (left front) visits the Zhoushan frigate, accompanied by Wang Zhiguo (right front), Commander of the Chinese Navy's third escort mission, in the Gulf of Aden on November 1, 2009 (GUO GANG) 
On March 21, as the fifth escort fleet of the Chinese Navy took to the waters against pirates in the Gulf of Aden and off Somalia, it also signified China's strongest efforts to date in fulfilling its obligations as a responsible country and safeguarding world peace and stability.
On that date, eight ships, including Lu Xun and Histria Azure, departed the Gulf of Aden and sailed off toward the Mandab Strait under its protection.
Since December 26, 2008, the Chinese Navy has dispatched 12 ships on five escort missions to the Gulf of Aden and Somali waters. As of March 20, 2010, it had escorted 179 ship formations, totaling 1,768 ships.
Altogether, over the course of 16 operations, they had rescued 10 Chinese ships and 13 foreign-flagged ships being pursued by pirates. In addition, Chinese naval ships had received crews and protected six ships that had been released by pirates.
The success of these escort missions have demonstrated the degree to which the Chinese Navy has made big progress over the past six decades, while showing its new image of a confident, friendly, transparent and cooperative military force.
Ceaseless violence by Somali pirates has posed a huge threat to the safety of Chinese commercial ships as well as those of the rest of the world. In this sense, China's presence in the region is a clear sign of its commitment to the world community.
Achievements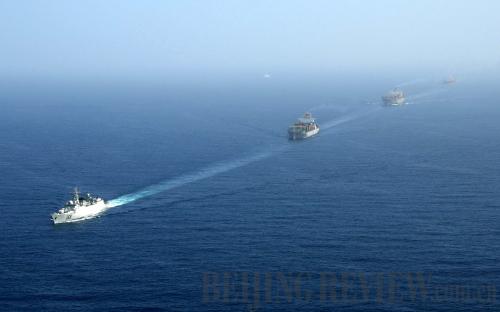 MARITIME MUSCLE: Led by the Wuhan destroyer, protected Chinese merchant vessels head up the Gulf of Aden on January 6, 2009 (XINHUA) 

China's deployment of warships to undertake escort missions follows requests by the UN Security Council—along with approval by Somalia's transitional government in Mogadishu.

Its escort missions have proven an overall success in peaceful military deployments by the Chinese Navy.

Past escort missions have left stories to tell. Indeed, on many occasions, whether during the day or night, amid tranquil waves or monstrous storms, commercial vessels in the Gulf of Aden or off Somalia requesting Chinese assistance have never been left without hope.

This gratitude has often been offered with great spontaneity. On January 20, 2009, for example, the Haikou destroyer of the Chinese Navy's first convoy mission escorted two Hong Kong merchant vessels—Zhongji 2 and Xique. With the flag of Hong Kong Special Administrative Region on their sterns and the Chinese national flag on their mainmasts, more than 20 crew members of each vessel, all clad in orange survival suits, climbed up on their main decks to cheer to the Chinese soldiers.

Li Chao, Captain of Zhongji 2, said that his crew, without prompting, all went on deck in their tribute to the Chinese Navy.

The sailors, he said, held aloft signs reading, "We love you motherland!" and "Thanks for the escort of the Chinese Navy!"

Huang Fuzhang, Captain of Xique, said, "We feel safe with our own warships escorting us here—and it makes us feel our motherland is strong."

"During our five-month mission, we overcame the harsh conditions of high temperature and high humidity," said Wang Zhiguo, Commander of the Chinese Navy's third convoy mission, otherwise known as Task Force 529. "We withstood the tests of equipment running under a heavy load for a long time and the crew working long hours at sea."

Strong winds and huge waves were also a challenge, "especially when passing the Arabian Sea," Wang said, describing "a strong wind of Force 10 and big waves as high as 6 meters."

"All crew members stuck to their positions and fought against it," he recalled. In the end, "after a 72-hour struggle, we beat it. That experience created a solid basis for the completion of the mission."