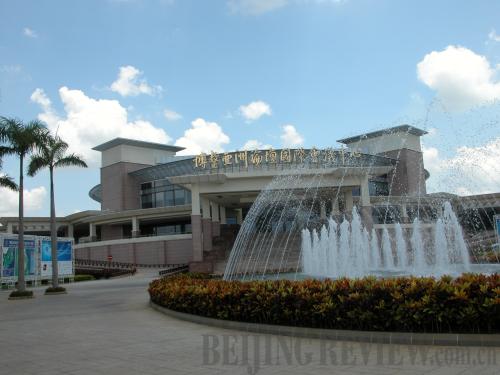 ECONOMIC MEETING: The International Convention Center is the main venue of the annual Boao Forum for Asia held in Boao, Hainan Province (CHU AN/CFP) 
After several months of unease, economies across Asia are breathing a sigh of relief as recovery hopes become realities. But even with noticeable improvements being made, Asian nations still face the challenge of moving away from a dependence on exports and maintaining growth momentum. These issues were hot topics at this year's Boao Forum for Asia, with Asia's green recovery as its theme. More than 2,000 economists and businesspeople from home and abroad attended the forum held in Boao of south China's Hainan Province from April 9 to 11. Edited excerpts follow:
Swift Recovery
(Goh Chok Tong, Singapore Senior Minister)
After tiding over the worst of the financial crisis, most of Asia is expected to maintain healthy growth this year. China, in particular, has a firm groundwork for a strong recovery. Singapore has followed China's example, fighting its way out of the economic quagmire in the first quarter of this year at a faster-than-expected pace.
The financial damages in Asia have not been too severe, so once the storm passes the economies can grow again.
In addition, both China and Singapore have benefited from the China-ASEAN (Association of Southeast Asian Nations) free trade agreement that took off this year.
The most important lesson drawn from the financial crisis is the government must maintain a cautious oversight over the financial industry to make sure banks do not get involved in risky investments, and to prevent investments from turning into bubbles in the property market and other sectors.
Moving up the Value Chain
(Zhang Xiaoqiang, Vice Minister of the National Development and Reform Commission of China)
For East Asian economies—now on a path toward prosperity—growth is not the most important point on their agendas. Their heavy dependence on exports and resources is casting an ominous shadow over future prospects. Despite vibrant growth rates, most lag behind South Korea and Japan in terms of high-end manufacturing, the service sector and business innovation.
But with flexible policies and a solid economic foundation, the emerging economies have the potential to catch up. They must move up the value chain and wean their dependence on cheap labor and natural resources.
China's enormous market can help facilitate a shift to a consumption-based economy. The auto market, for example, experienced a buying rush last year on the back of generous policy incentives.
Meanwhile, it is necessary for the country to press ahead with technological innovation and education that promote labor productivity and economic vitality. Rebalancing the economy also requires allowing more room for private enterprises to grow.
M&A Pick up
(Par Ostberg, Senior Vice President of Volvo Group of Sweden)
With economies shaking off the downturn, enterprises in Asia are stepping up mergers and acquisitions (M&As) as they gear up to build a global presence. This is a huge improvement from a year ago when M&A activities dried up due to dwindling economic prospects and a lack of financing.
But creating success from cross-border M&A is not without difficulties. Their inexperience with local markets, and cultural and management differences are likely to undermine post-merger integrations.
So it is important for acquirers to have a clear plan for their overseas forays and hire experienced local managers to bridge the language and cultural gap, and help tap the local markets.
Internationalizing the Yuan
(Charles Li, Chief Executive of Hong Kong Exchanges and Clearing Ltd.)
China is supposed to beef up the process of internationalizing its currency to match the growing status of its economy. This is an inevitable outcome as China plays an increasingly important role on the world stage and has been a leading contributor to global economic growth.
Following the process of wealth accumulation, China is entering a period that sees massive capital flow out of the country for investment and protection against inflation. Of course, the policymakers must pay attention to risks arising during the initial stage of this process.
As a global financial center, Hong Kong will play a bigger role in paving the way for the yuan to go global. As a way of embracing this trend, the country for the first time issued yuan-denominated bonds in Hong Kong last year.