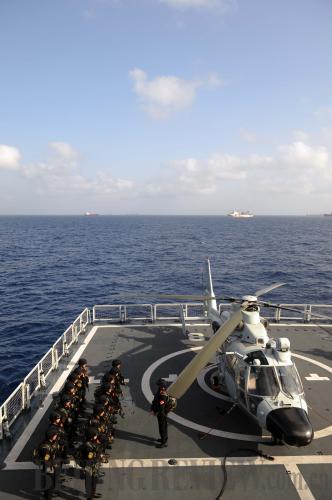 NAVAL AVIATION: Special operations soldiers of China's fifth escort fleet prepare to board a helicopter ferrying them to Chinese merchant vessels at the outset of a three-day escort mission in the Gulf of Aden on April 11, 2010 LIU (CHUNHUI) 
Pirate attacks on private and commercial shipping vessels run rampant off the lawless coasts of Yemen and Somalia near the Gulf of Aden. Faced with these situations, why have Chinese naval escorts, until now, proven reluctant to fight back?
In March, The International Herald Leader, a Beijing-based newspaper published by Xinhua News Agency, conducted an interview with Qiu Yanpeng, Commander of the fourth Chinese naval escort mission in the Gulf of Aden. Excerpts follow:
The International Herald Leader: What kind of measures have you taken to deal with suspected pirate ships?
Qiu Yanpeng: To ensure the safety of merchant vessels, we have undertaken a series of measures. For example, we start to escort the ships even before they enter our patrol area and continue to escort them for a while after they leave the area. We also remain on high alert for the duration of the voyage, while being prepared to repel an attack at any time.
In addition, we have deployed special operations soldiers on board the ships if needed. For instance, on one escort mission for a 31-ship merchant vessel formation, we dispatched 20 soldiers aboard five separate merchant vessels, and placed these guarded vessels in important positions in the merchant ship formation so that they can form a mutual support system with the escorting fleet.
Is our escort fleet too passive when faced with provocation by suspected pirates?
The Gulf of Aden is an important international waterway with a significant strategic position. The situation there is complex, and many parties have vested interests in the area. China's deployment of warships in these waters is to ensure the safe passage of Chinese vessels while demonstrating its commitment to being a responsible, peaceful player in the international community.
The most difficult thing all navies face is the difficulties inherent in distinguishing pirate as opposed to civilian-run boats.
Somali pirates, notably, are largely former impoverished fishermen. They wear similar clothes as fishermen, and use fishing vessels, covered by nets and fishing gear. Sometimes, they even bring women and children aboard with them as diversionary measures.
Regardless of their guise, so long as they have opportunities to attack, they never hesitate. When a naval warship appears, however, they almost always toss their weapons into the sea, leaving no evidence on which they can be detained.
On January 22, we received word that a Chinese merchant ship was under attack by a boat with four men, three of whom were armed. When our helicopter came to the scene and confronted the pirates, no gun—or any other evidence—was found. So we had no other choice but to set the men free.
How does the Chinese escort fleet communicate and cooperate with its foreign counterparts? If there were Chinese merchant vessels or sailors harassed by pirate ships, how can the Chinese escort fleet be informed immediately?
In the Gulf of Aden, exchanges and cooperation between naval vessels are very close.
In order to strengthen regional anti-piracy cooperation, a website has been set up to create a basic platform for intelligence sharing. Escort fleets from different countries all submit information to the website, including their locations, conditions, surrounding circumstances, targets they have located, as well as information about the merchant vessels they are guarding and protective measures taken.
Some regional maritime organizations have also joined the program. Merchant vessels often inform these organizations of their navigation information or information asking for help. The organizations will then make the information available to escort fleets by posting it to the website. We attach great importance to this information exchange mechanism and cooperate well with all the foreign escorting fleets on the Internet.
In addition, we have convened with our foreign colleagues on multiple occasions to exchange information and discuss issues related to anti-piracy measures.
Meanwhile, the Chinese Government and relevant shipping companies have endeavored to ensure information about escort missions is disseminated in a timely and effective way.
Do the current replenishment methods meet the requirement of the escorting fleet?
Now we mainly depend on three ways of replenishment: depot ship replenishment, domestic merchant ship piggybacking, and port replenishment abroad. Generally, battle fleets reach port every 30 to 40 days, while depot ships do so once every two months. Both then enjoy replenishments for three days.
Judging by the current situation, the three methods basically meet the needs of our fleet. But there are problems, too. For instance, it is difficult to keep food—especially vegetables—fresh in depot ships and it takes a long time to get equipment in urgent need. Nonetheless, these problems will not affect our escort missions.