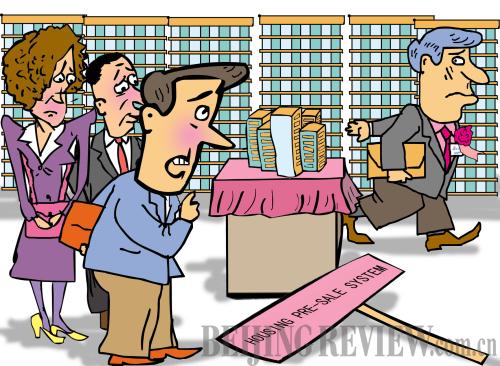 (LI SHIGONG) 
Nanning, capital of Guangxi Zhuang Autonomous Region, has been designated to pilot a scheme to decide whether or not to cancel the housing pre-sale system.
Whether the housing pre-sale system should be annulled has been a hot topic for years. The Chinese mainland's housing pre-sale system stems from Hong Kong. It was adopted in the mid-1990s and began to spread across the country.
The system is believed by some people to be a good way to accelerate capital turnover. Thanks to the system, property developers are able to set up many buildings under heavy capital pressure. Banks also benefit from people taking out a greater number of housing loans and homebuyers can reduce expenditure.
Because a pre-sale price is generally 10 percent lower than that of completed houses, people prefer the former option. They think the system is reasonable so, despite problems in enforcement processes, the situation is not so bad that it has to be annulled. Moreover, abolition might lead to price fluctuations because of supply shortages, at least within short periods of time.
But many homebuyers and economists think seven "imputations" of this system, including increasing legal risk and the long wait between pre-selling and home delivery. Consequently, many people believe the system, which they think favors developers, should be done away with.
Will housing prices rise even more after annulment of the pre-sale system? Without previous payment, economists predict, property developers may have to face capital shortage and, in order to reclaim investment, they will tend not to sit on apartment blocks. This will undoubtedly increase the efficiency of land use and house supply. If only completed houses are sold, not only will there be less cases of repeated house transfers, but speculation in the housing market will also fall, because speculators will be risking their own capital input. In this case, housing prices are unlikely to rocket.
High time to abolish
Zhou Yun (Zhujiang Evening News): If you go shopping in stores or markets, the goods are yours at the same time you pay for them. But it's strange a costly home is delivered to the buyer months or even years after he or she pays for it. This kind of business obviously favors sellers and is very unfair to consumers. But the housing pre-sale system has existed in China's housing market for more than a decade.
The pre-sale system is quite blamable and its major problem is to push forward housing prices. The real estate sector is capital-intensive and so developers are very nervous about their capital turnover. The pre-sale system helps to remove developers' concerns about capital to a great degree. If only completed apartment buildings can be traded, developers must have been in heavy debt when building is finished. In order to reclaim investment as soon as possible, they will probably choose to sell houses at reasonable prices.
Exorbitantly high housing prices have triggered numerous social problems. In response, the Central Government has adopted a series of countermeasures. These policies are effective to some extent, but are not decisive. Many housing developers choose to wait and see. If the pre-sale system is annulled, along with other credit tightening policies, developers might feel nervous about the capital chain, which, once it is broken, will doom their survival sooner or later. As a result, housing prices are surely going to drop.
Yu Fenghui (Yanzhao Metropolis Daily): Chinese real estate developers are able to make big profits in two ways: One is to purchase a lot of land with a small down payment at land auctions and exchange for bank loans with the purchased land as guaranty; the other is to pre-sell houses under construction so purchasers pay for the construction of the buildings, instead of the developers.
The pre-sale system was set up in 1998, in order to boost China's sluggish real estate sector. But, with rapid development, the real estate sector has already accumulated a certain capacity. If the system continues, it will only encourage speculation and cause greater bubbles in the market. Under this system, developers provide houses in arrears and sometimes corrupt developers even make off with homebuyers' money. The pre-sale system was originally a financial credit system, but it lacked stringent supervision and was, in essence, an unfair system that gave property developers an advantage while rendering buyers passive.
As for real estate bubbles, the pre-sale system should shoulder most of the blame. To annul this system will help to create a healthier property market where developers are encouraged to sell, reclaim investment and desist from hoarding property. This will help to prevent financial risks and ensure the sound development of the real estate sector.