SPACE WALKING: Chinese astronaut Zhai Zhigang waves the Chinese national flag when he takes China's first walk in space outside Shenzhou 7 on September 27, 2008 (ZHA CHUNMING)
China plans to launch an unmanned space module, Tiangong 1, in 2011, said Qi Faren, the chief designer of China's Shenzhou spacecraft, at the sidelines of the annual plenary session of the National Committee of the Chinese People's Political Consultative Conference (CPPCC), the country's top political advisory body, on March 3.
Tiangong, or the Heavenly Palace, will eventually be transformed into a manned space laboratory after experimental dockings by the three Shenzhou spacecrafts—Shenzhou 8, Shenzhou 9 and Shenzhou 10, which are expected to be launched into space within two years of the module's launch, said Qi.
An essential step
Qi said that Tiangong 1, which weighs approximately 8.5 tons, is expected to complete China's first space docking with Shenzhou 8 during the following year, and will perform long-term independent operations, which are regarded as an essential step toward building a space station.
The official website of China's manned space program, Cmse.gov.cn, says China is now in the second phase of a three-step plan that the nation has drafted for implementing its manned space program.
The first phase is sending astronauts into space, which was accomplished when China successfully launched its first astronaut, Yang Liwei, into space with Shenzhou 5 in 2003, said Zhang Jianqi, former Vice Commander in Chief of China's Manned Space Engineering Program.
The second phase is described by the official website as including the goals of launching spacecrafts with more than one astronaut, space walking, docking between spacecrafts and space modules, and launching short-term manned space laboratories.
The first two goals were achieved by the Shenzhou 6 and Shenzhou 7 spacecrafts separately in 2005 and 2008, said Zhang. The current focus is on the launch of Tiangong 1, and the docking of the three spaceships Shenzhou 8, Shenzhou 9 and Shenzhou 10 with Tiangong 1 following its launch.
Zhang said Tiangong 1 would be launched on a technologically-modified Long March 2-F carrier rocket.
Scientists have made nearly 170 technological modifications, including 38 major ones, to the original Long March 2-F model, he said.
Qi said clean propellants such as liquid oxygen and kerosene have replaced polluting elements in China's space programs.
Additionally, throughout the whole second phase China will need to master four technologies in order to launch the space station in the third phase, said Qi. Astronauts carried out extravehicular activity during the Shenzhou 7 mission in 2008 and scientists are now working on the challenge of space docking.
Space docking technology has been widely recognized as one of the most sophisticated space skills as it requires precise handling of two high-speed spacecraft which meet and dock in space.
The official website says any miscalculations during a docking could lead to the collision of spacecrafts.
"The Tiangong 1 is the platform for testing space docking technology," said Qi. According to current plans, Shenzhou 8 will be an unmanned spacecraft that will attempt to dock with Tiangong 1 during the following year, he said.
Scientists on the ground will control docking of the spacecraft between the orbiter and the unmanned spaceship.
If that mission is a success, manned spaceships will be launched to dock with the Tiangong 1, Qi said. "We will then improve Tiangong 1 and further develop the space laboratory."
Following conversion into a manned space laboratory, Tiangong 1 will provide a "safe room" for Chinese astronauts to live and conduct research under zero-gravity conditions.
The space laboratory will operate independently in the long term but will be taken care of by astronauts in the short term, so China will also have to solve supply problems.
"We will launch a cargo spaceship that will send several tons of supplies, including water, food, air and other items, to the space laboratory," Qi said.
At present, the Shenzhou spaceships can only carry 300 kg of payload when three astronauts are on board. Scientists will also have to overcome the problem of recycling air and water in the space laboratory.
When these problems have all been resolved, China will be ready to launch its space station on top of a Long March 5 rocket from the new launch center in Hainan Province, said Qi.
Female astronauts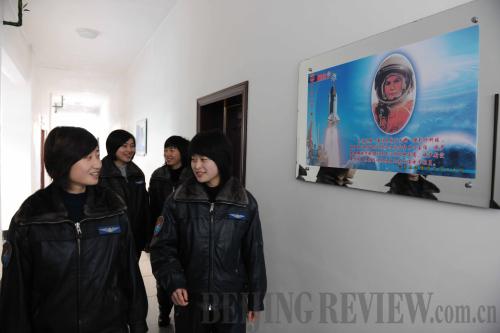 FUTURE ASTRONAUTS: China's first batch of female astronaut candidates are selected from airforce pilots (CFP)

For the first time, China will select female astronauts to operate its manned space laboratories.

Zhang said seven Chinese astronauts, including two females, have been shortlisted for the country's space program.

The seven top-flight pilots were specially picked from 45 candidates, 30 male and 15 female, who are some of the finest pilots in the Chinese airforce. The candidates were divided into three groups, and underwent thorough physical examinations as well as psychological tests, said Zhang.

"During the selection process, we had almost the same requirements for female candidates as for male candidates, with the only difference was that they must be married, as we believe married women to be more physically and psychologically mature," he said.

He said women astronauts theoretically enjoy advantages over their male counterparts in terms of endurance and cautiousness.

The vetting process for the country's future astronauts is an exacting search for "the perfect human," said Xu Xianrong, a doctor with top-rated Air Force General Hospital who participated in the selection process.

For example, since astronauts in flight must adjust to weightlessness, it is preferred pilots are endowed with superior vestibular systems—a tiny part of the auditory system located in the inner ear which contributes to the bodily functions of balance and equilibrium, Xu told the Xinhua News Agency.

"Of course, requirements are different for spacecraft pilots and communicators," he said.

Regarding the criteria only mothers be permitted to serve as female astronauts, Xu said, "this is out of the consideration of being responsible for female pilots."

"Although there is little evidence on how space travel can affect the female anatomy, we have to be especially cautious. After all, this is unprecedented within China," he said.

Lunar probe

Meanwhile, China has also accelerated the pace of its moon exploration mission.

China will send Chang'e 3 and a lunar rover to the moon in 2013 at the earliest, said Ye Peijian, chief designer of the country's first moon probe and member of the Chinese Academy of Sciences, on April 10.

Chang'e 3's mission will be to achieve a soft landing and probe the surface of the moon. The lunar rover will bear the brand "Zhonghua," meaning "China," said Ye.

Before this mission, Chang'e 2 will be launched in October of this year to test key technologies for soft landing as well as reduce technical risks, said Liang Xiaohong, Deputy Director of the China Academy of Launch Vehicle Technology.

The satellite will be launched on a Long March 3-C carrier rocket, Liang said.

The timetable for the launch was announced just as China concluded the first phase of its three-stage moon mission with a controlled impact of Chang'e 1 on the Moon on March 1, 2009.

Chang'e 1, China's first lunar probe, was launched in October 2007.

Ye said China's three-stage moon mission could be defined as "orbiting," "landing" and "returning."

A Chang'e 4 will also be launched during the second phase, which will conclude before 2017, he said.

The third phase will last from 2017 to 2020, Ye said.

Major Events of China's Space Program

October 8, 1956 An institute on missile and rocket research is set up, the first of the country.

July 19, 1964 A biological rocket carrying albino rats is launched successfully.

April 1, 1968 An institute for spaceflight-oriented medical engineering is set up.

April 24, 1970 The Dong Fang Hong 1 scientific experimental satellite lifts off aboard a Long March rocket.

November 26, 1975 The first recoverable satellite of the country is launched.

September 7, 1988 A meteorological satellite Feng Yun 1-A is launched.

April 7, 1990 The Long March CZ 3 sends AsiaSat 1 communication satellite into orbit, the start of the country's commercial launch service.

July 16, 1990 The Long March CZ 2-E is launched, a cluster carrier rocket.

November 20, 1999 The unmanned Shenzhou 1 spacecraft is launched.

January 10, 2001 The unmanned Shenzhou 2 spacecraft is launched.

March 25, 2002 The unmanned Shenzhou 3 spacecraft is launched.

December 30, 2002 The unmanned Shenzhou 4 spacecraft is launched.

October 15, 2003 The Shenzhou 5 blasts off into space, sending the country's first astronaut Yang Liwei into orbit.

October 12, 2005 The Shenzhou 6 is launched, sending two astronauts, Fei Junlong and Nie Haisheng, into space.

October 24, 2007 The first unmanned lunar orbiter of the country, Chang'e 1, is launched.

September 25, 2008 The Shenzhou 7 blasts off, sending Zhai Zhigang, Liu Boming and Jing Haipeng into space. Zhai completes the country's first space walking on September 27, 2008.

(Source: Xinhua News Agency)