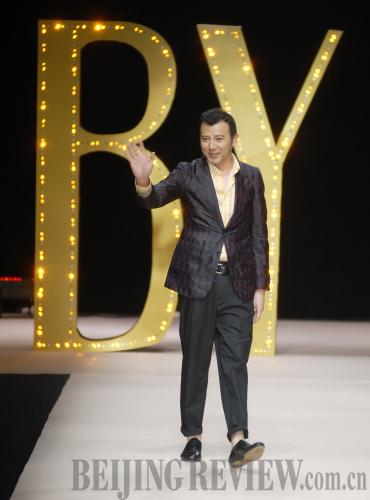 I DESIGN, I FASHION: Designer Xie Feng steps on the stage of China Fashion Week with his brand Jefen on March 28, 2010 (WEI YAO) 
PRETTY SHOW: A model wearing Jefen clothes on the stage of China Fashion Week (WEI YAO) 
On March 28, a fashion show dubbed Rock Music kicked off at Beijing Hotel. The models, wearing clothes featuring long colorful skirts, tight and long jackets, offered a feast of design from Chinese brand Jefen's 2010 autumn/winter collection.
It was the first time designer Xie Feng had staged a show in China after his work became a hit in fashion meccas Paris and Milan.
When Xie started his career in the design industry, China was still a land of simple clothes and sturdy fabrics, and there was hardly any fashion to design—not to mention fashion magazines, designer labels or fashion events.
"When I was in college in the early 1980s, there was even no major in fashion," said Xie. "It wasn't part of the culture at that time."
Xie, born in Hangzhou, capital of southeast China's Zhejiang Province, loved painting as a youngster. He then studied it along with textile printing at Zhejiang Sci-Tech University. After graduating in 1984, he went to Japan to study fashion design at Tokyo's Bunka Fashion College.
Following graduation in 1990 he started working at Nicole Co. with Japanese fashion designer Mistuhiro Mazda, where he learned about choosing fabrics, printing, designing, cutting, producing, marketing and managing a fashion house.
After 10 years in Japan and frequent visits to France and Italy, Xie launched his own brand, Jefen, in Beijing in 2000.
On October 1, 2006, Xie stepped onto the stage of Paris Fashion Week with Jefen's ready-to-wear collection Door, becoming the first Chinese designer on the stage at this level. Since then, he has shown twice at each Paris Fashion Week.
Before Xie, Chinese designers had launched fashion in France and Europe via cultural exchanges. But Xie's special presentation marked the acceptance of Chinese designers by Paris Fashion Week and built a bridge between the country's designers and world fashion.
With Xie hailed overseas for his fashion dream, China has also gone from being a fashion black hole to a fashion industry hub and has quickly become the center of multibillion-dollar manufacturing and international retail activity.
The dramatic changes appealed to Xie to turn his eyes back to China. "In olden days, when one girl wore a pretty red skirt, soon that red skirt would become very popular and many girls would wear the same style," he said. "Now, when you see another person wearing the same clothes as yours, you want to change."
Young Chinese, nevertheless, still prefer to choose foreign brands instead of the local products.
"The current fashion industry in China isn't meeting the needs of the modern Chinese women," said Su Mang, Executive Publisher and Editor in Chief of the Chinese edition of Harper's Bazaar, who has been a fashion editor for 10 years.
"They love fashion, they want style, and they're finding it only in foreign designs right now. Many women here don't want to wear Chinese brands, as these brands are just not sophisticated enough."
This is seen by Xie as both an obstacle and opportunity. "Chinese designers can include unique Chinese elements within their design, an advantage over foreign designers in China's market," said Xie, "my inspiration mostly comes from Chinese culture and philosophy."
His voice is echoed by Wang Qing, President of the China Fashion Association: "Foreign brands competing in the market have better operations and brand images than those from China right now. But Chinese designers have their own advantages. While foreign designers tend to view China as a whole, Chinese designers recognize the differences in markets around the country. The cultures and needs are very different as you go from north to south of the country. Foreign companies entering China can spend three to five years localizing their brands, but Chinese designers are already there."
Today, Jefen's 20 boutiques across China turn over annual revenue of more than $7 million, making it one of the top local brands.
On March 28 Xie opened two more exclusive shops in Beijing and Shanghai. "The global crisis doesn't influence Jefen's market, which instead increased by 30 percent," he said.
Xie sees a promising future market for Jefen. "Foreign luxury brands will always appeal to the people who want only the top labels," he said. "But Chinese designers' real strength is in the everyday clothes that the majority of people wear. If you look at Japan, there are both successful foreign luxury brands and high-end and mid-priced clothes from Japanese brands. The Japanese designers understand the culture and lifestyle better than any designer from an outside country. In the future, China could be the same way."