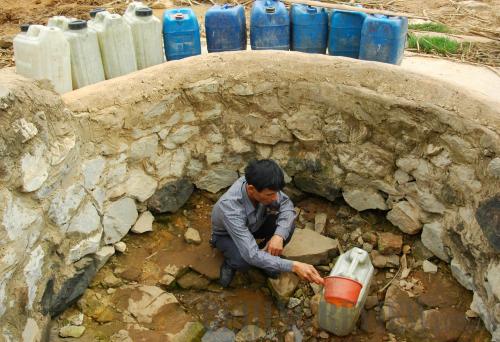 SEARCHING FOR WATER: Liang Shengxin, a villager of Wenming Village in Shangsi County in severe drought-hit Guangxi Zhuang Autonomous Region, fetches water from the bottom of a well, which is going to dry, on March 24 (LIANG FUYING) 
The severe drought in southwest China continues and has worsened shortages of drinking water, as recent rainfall in these areas has been far from adequate, said China's drought relief authorities on April 8.
The drought situation is looking quite grave, said Chen Lei, Deputy Director of the Office of State Flood Control and Drought Relief Headquarters (SFDH).
As of April 8, the drought had affected 25.95 million people and 18.44 million livestock, as well as 8.07 million hectares of arable land throughout the nation, said the SFDH.
In the provinces of Yunnan, Guizhou and Sichuan, as well as Chongqing Municipality and the Guangxi Zhuang Autonomous Region, the severe drought has caused drinking water shortages for 20.88 million people and 13.68 million livestock.
Chen, also the Minister of Water Resources, places the blame on lower rainfall and higher temperatures than normal.
"Although rainfall recently occurred in the affected areas, it has not been enough to alleviate the dry spell that has lingered there since last autumn," Chen said at the High-Level Roundtable on Global Climate Change and Water Security in China on April 7.
Recent rainfall perhaps provided some relief to farm production, but drinking water remains a problem, said Liu Ning, Vice Minister of Water Resources.
"We should be fully prepared for a longer and more serious drought," he said, adding that the rainy season does not usually start in the southwestern region until late May.
Relief efforts underway
On April 3-5, Chinese Premier Wen Jiabao undertook an inspection tour of the Miao-Bouyei Autonomous Prefecture in southwestern part of Guizhou Province, one of the areas most severely affected by the drought, to discuss relief measures with local officials.
It was his third visit to southwest China this year, and he used the opportunity to convey his concerns to people living in the drought-affected areas.
On April 1, Vice Premier Hui Liangyu urged authorities to make the provision of drinking water to people in drought-hit areas a top priority.
"We must do everything we can to obtain water by adopting new measures such as artificial precipitation, the excavation of wells, and finding new water sources," he said.
He also asked local governments to invest more in building water conservation facilities to resolve the "bottleneck problems" in agricultural production.
In order to alleviate persistent drought, Chinese authorities have intensified their efforts to secure drinking water for millions of rural people and mitigate damage caused by the catastrophe, according to reports.
The Central Government has allocated as much as 7.5 billion yuan ($1.09 billion) in this regard, including 155 million yuan ($22.69 million) budgeted for mega-droughts, 1 billion yuan ($146.41 million) for comprehensive measures against droughts, and 6.4 billion yuan ($937.04 million) for rural drinking water security and small water projects.
Chen said the Ministry of Water Resources was accelerating schedules for water projects in affected regions, and had commenced construction of more small irrigation and drainage projects.
Additionally, water-control projects, including measures such as medium-sized reservoirs, would be built as soon as possible, he said. To enhance water storage capability in southwest mountainous areas, small water supply projects such as ponds and water cellars will be built.
More effort will also be given to the regions' irrigation systems to improve the drought-resistance capacity of local farming, Chen said.
Joint endeavors
China's central state-owned enterprises have donated 19.5 million yuan ($2.86 million) to drought-affected regions for disaster relief.
About 10 million yuan ($1.46 million) of this amount was allocated to Yunnan, while the remainder was distributed to Guizhou, Sichuan, Guangxi and Chongqing, according to a statement from the Chinese Red Cross Foundation, which was responsible for channeling the funds.
Around 70 percent of this money will be used to purchase rice and drinking water, and the rest for building wells and reservoirs.
On the evening of April 3, a star-studded television charity performance raised money and goods totaling more than 270 million yuan ($39.53 million) for people in the drought-hit areas.
The over three-hour fundraiser featured stars from the Chinese mainland, Hong Kong and Taiwan, including kungfu star Jackie Chan. The money and goods raised will be donated to those heavily affected by the severe drought.