During Hu's morale-boosting visit to quake-hit areas, he also assured locals of new homes and schools and steadfast relief work.
"There will be new campuses! There will be new homes!" Hu wrote in chalk on a blackboard in a makeshift classroom for students from the Yushu School for Orphans, which resumed classes on the previous day.
The president also assured an injured Tibetan man, who was treated in a medical tent, that the Party and the government will take care of all quake victims and help affected people build new homes.
At a meeting of the country's top leadership chaired by Hu on April 17, the provision of food, clean drinking water, clothing, shelter and necessary medical treatment to evacuees was placed high on the government's relief agenda, and information transparency was also stressed in the earthquake relief.
Information about the situation of the earthquake and relief work should be released in a "timely, accurate, comprehensive and objective manner," said a statement released after the meeting.
Visiting the quake zone one day after the earthquake, Premier Wen Jiabao scrambled over rubble to check on the rescue work and encourage rescuers to do their utmost to save lives. Wen also had postponed a scheduled visit to Brunei, Indonesia and Myanmar on April 22-25 to concentrate on relief work.
Vice Premier Hui Liangyu headed the State Council earthquake-relief headquarters, which was immediately set up after the earthquake to lead disaster relief, epidemic prevention, seismic monitoring and public security. Hui arrived at the quake zone on the day of the earthquake to coordinate relief work.
Racing against time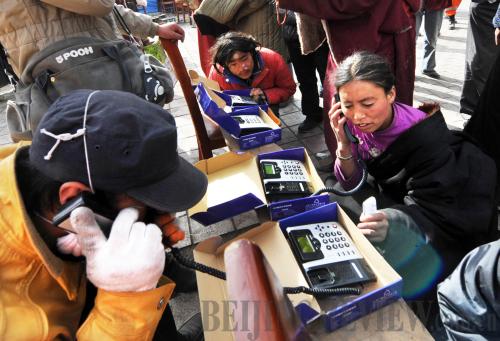 SAFETY REPORT: Yushu residents make free calls to their friends and families with telephones provided by China Unicom on April 17 (LI ZIHENG)

By 8 p.m. April 20, the Ministry of Health announced that medical workers dispatched to the quake zone had completed all emergency operations for people injured during the earthquake, which marked the conclusion of the emergency medical relief.

The ministry activated top-level disaster response system immediately after the earthquake. On April 14, based on the evaluation by a team sent by the ministry to Yushu, the ministry ordered the transfer of people with serious injuries to hospitals with better conditions as soon as possible. It ordered neighboring provinces to reserve beds for transferred patients. By 8 p.m. April 20, 2,381 injured people from the earthquake zone had been transferred for medical treatment to 51 hospitals in other cities in Qinghai, as well as the neighboring provinces of Shaanxi, Gansu and Sichuan and Tibet Autonomous Region.

A 20-member medical team from Taiwan arrived in Xining, Qinghai's capital city, on April 18, which worked with doctors at the No.1 People's Hospital of Xining to treat more than 70 injured people there.

Yushu, which doesn't have access to rail transportation, is located 820 km away from Xining. The urgent task of transferring injured people and transporting emergency relief supplies, rescuers and medical workers is heavily reliant upon air transportation through Batang Airport, which is 30 km from the earthquake epicenter. The airport, which has been in operation for less than a year and has only one runway, was upgraded with night navigation capacity by the Air Force of the People's Liberation Army on the day after the earthquake.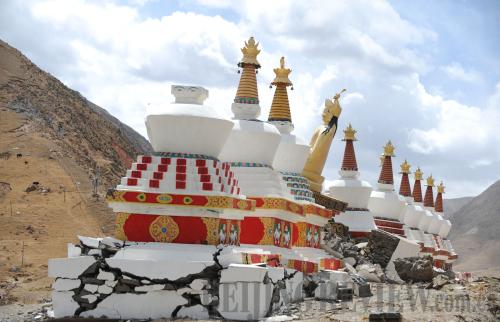 DAMAGED TREASURE: The 700-year-old Changu Monastery in Yushu was devastated in the earthquake on April 14 (JIANG HONGJING) 
By noon on April 19, 198 planes on relief missions took off and landed at Batang Airport, which transported a total of 6,715 rescue workers, 1,752 people injured in the earthquake and 828 tons of relief supplies.
The only road from Xining to Yushu, the No.214 National Highway, was plagued with traffic jams due to quake-caused damage and an increase of vehicles on relief missions during the first two days after the earthquake. The situation was relieved after the Ministry of Public Security issued an order on April 17 to stop or redirect vehicles that were not part of groups on organized shipment missions.
By 3 p.m. April 20, 34,468 tents had arrived in Yushu. Other relief supplies that had arrived included 55,470 cotton-padded coats, 188,913 quilts, 1,016 tons of fast food and mineral water, 97 sets of prefabricated houses, 20,077 foldable beds, 500 sets of makeshift toilets, 500 sets of stretchers and 320 tons of fuel. At least 14,000 tents, 108,000 cotton-padded coats and 10,000 quilts were on the way.
During an interview on April 20, Geng Yang, head of Qinghai Provincial Civil Affairs Department, said 98 percent of earthquake evacuees lived in the 34,000 tents set up for them, while the other 2 percent would be provided with tents as shelter on April 21. Geng said his department was striving to achieve the settlement standard of providing each household with 1.5 tents.