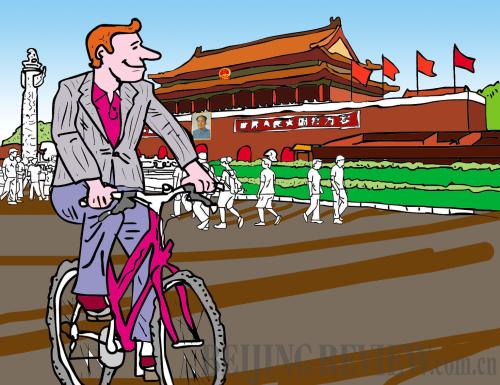 (LI SHIGONG) 
Okay, I just want to get something out in the open here. I am a bikeoholic. It's not that I have always had this affliction: In the past, I could take it or leave it. But my addiction has had a firm hold on me for seven months now—the exact same amount of time I have been living in Beijing.
Coincidence? Not likely.
This city has turned me into an obsessive bike-rider. My attraction to peddling around town started when I moved in with my first housemate in Beijing, Uwe, a teetotaling German who believed taxi trips were a pathetic overindulgence, and who I firmly suspect held plans for achieving world dominance via his dedication to the bicycle. He rode around town on the largest bicycle I have ever seen.
Uwe set me up on a spare bike that had been left over by a housemate from an unspecified Latin country, who apparently had a tendency to ride home after a few too many frothy ones in Sanlitun. (This is the standard history of any secondhand bicycle in Beijing.)
From that moment, I never looked back. Put simply, Beijing is a wonderful city for riding. It's dead flat, so you can cruise along without too much exertion. The fantastic bicycle lanes that adorn the city's streets make for a carefree life in the saddle, and the roads generally run west-to-east and north-to-south, making it easy to find your way around.
But it's more than a question of convenience. Unless you have spent a lot of time biking in Beijing, I don't think you can understand how connected it makes you feel with the city's pulse. The hutongs, streets and lakeside boulevards, rather, seem to have so much more effect when seen on two wheels.
I reckon it's because you are moving faster than walking, so your mind takes in much more food for thought. At the other extreme, a taxi takes you too fast to absorb anything at all, not to mention shutting out the sounds of the streets.
Making my way through Beijing's rush hour madness is part of the buzz of my lifestyle here. I love watching this town come to life on its streets in the morning. People are everywhere: walking, peddling, and riding buses. It is like watching one big, fluid mass of humanity.
Say what you will about cycling in this city, but it's never dull. You are rubbing shoulders with all walks of Beijing life. Every day, some old boys will pull up alongside me at the traffic lights, stare fixedly at me from half a meter away and say to themselves, "Yep, that really is a white guy on a bicycle. Now I've seen it all."
Of course, the younger Chinese riders don't find me so alien, so they are no fun at all. But it's all the same to me: I am usually having too much fun to notice.
I have become a big fan of weaving between of taxis, preferably while they are moving. It's part of the charm of the experience. Safety-wise, I have gone through an evolution of sorts. Seven months ago, I approached cycling in Beijing with a "conservative" philosophy. Then it shifted to something along the lines of "assertive." After that I adopted a philosophy of "que sera sera"—what will be will be.
But lately I have given up on waxing philosophical. It clouds my thoughts and prevents me from throwing the full force of my being at Beijing's taxi drivers. God bless 'em.
Sure, you could take the subway. I mean, the subway is definitely very safe. I hear croquet is also very safe, but I won't be doing that any time soon. Seriously, who wants to live the suburban nightmare, trapped like humanoids in the underground drabness on the way to work? I'd much rather dedicate myself to becoming Beijing's answer to Evil Knievel, an ambition I cling to passionately.
One of my favorite places to ride is around the Tiananmen Square. I love the sprawling expanse of asphalt that channels vehicles around the outskirts of this supersized public area. I love to weave through the traffic and the tourists like a maniac and as I pass under the giant image of Chairman Mao, I like to imagine that he is giving me a wink and a smile.
What I love most of all is to ride around the Tiananmen Square in the dead of night during the week. A couple of times on my way home from watching a late Tuesday night movie at Xidan, I have ridden through Tiananmen after midnight and found no one except for a few police patrolling the square.
Under a dark, slightly misty sky on a biting winter's night, the square is a picture of Beijing at its most serene. On nights like these, you can weave sweeping arcs across the five empty lanes that circumnavigate the square. It is mesmerising to see the heart of such a frenetic city ease into a peaceful stillness, while leaving itself open to the whimsical incursion of a freezing foreigner on a bicycle.
But that's how it is riding around this town.
The author is an Australian living in Beijing