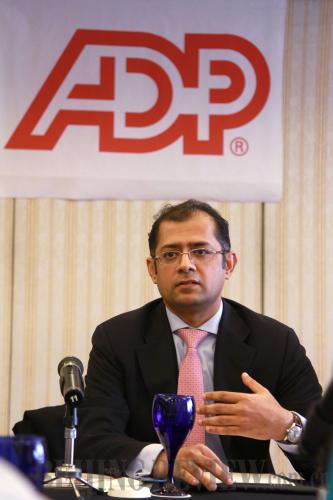 LONG-TERM COMMITMENT: Amer Ahktar, Managing Director of ADP China, said the company is committed to promoting long-term sustainable development of China's HR outsourcing industry Courtesy of ADP China 
For a business almost nonexistent in China two decades ago, human resource (HR) outsourcing has since turned the country into a potential goldmine as outsourcing solution providers look to establish or expand their operations. To cater the growing HR outsourcing need in the China's markets, U.S. integrated computing and business outsourcing company Automatic Data Processing Inc. (ADP), is expanding its market presence to serve both multinational and local companies.
Considering China "a key growth opportunity," ADP opened offices in Shanghai and Beijing in 2006. Last April, its employer services division acquired a majority stake in ChinaLink, a Shanghai-based HR agency service provider. And ADP is open to acquiring local HR service providers, too. Through these acquisitions, "ADP will expand its opportunities in China in line with its long-term strategy," said ADP President and CEO Gary Butler.
"Although ADP China has yet to turn a profit, ADP will continue to invest in this unique market where patience and education are needed to make the concept of professional HR outsourcing services acceptable to a larger client base," said Amer Ahktar, Managing Director of ADP China.
China's HR outsourcing market is worth up to $1 billion and will grow 20 percent annually in the coming years. It is expected to reach $1.5 billion by the end of this year, said Ahktar, citing International Data Corp. statistics.
HR outsourcing
The HR services industrial value grew to 50.6 billion yuan ($7.4 billion) last year due to continued efforts to open the country's markets and rapid economic development. However, while HR agency services have been widely adopted, HR business process outsourcing (BPO) has only recently emerged in China.
The HR outsourcing business worldwide is evolving from basically supportive services, such as payroll and benefits, to include more judgment-intensive processes, such as employer relations and performance management, said Ahktar.
The delivery model is also evolving from information technology infrastructure to a Web-based BPO platform—from a one-to-one to one-to-many environment—allowing participation and interaction from all parties, he said.
Boosted by the needs of multinational companies in China, local private service providers emerged to offer HR support services such as employee dispatching and recruiting in the 1990s. Before that, local employees were hired and handled by designated organizations using a talent dispatching model.
As the business environment in China becomes more complex and competitive, and as businesses grow in scale, Chinese companies look beyond traditional HR agency services for highly effective HR BPO solutions that not only process transactions, but, more importantly, utilize higher levels of service delivery and control.
As the HR market grew in the past decade, global service providers such as ADP came to sweep up business opportunities in China.
"We help address enterprises' top concern: spend less time on administration and more time on strategies and planning," said Ahktar, explaining that outsourcing is frequently used together with internal reengineering and shared services to improve HR operations and drive restructuring within a company.
ADP entered the Chinese market in 2006 with GlobalView, an integrated, technology-based HR outsourcing solution for employers of large multinational companies.
Almost all large companies use professional HR BPO services with different focuses, such as training, recruiting, payroll and benefits, and performance management, for cost effectiveness and governance transparency.
ADP's employers service division, for example, which had $7.4 billion in revenues last year, serves approximately 570,000 clients worldwide. These include more than 60 percent of Fortune 500 and 75 percent of Fortune 100 companies.