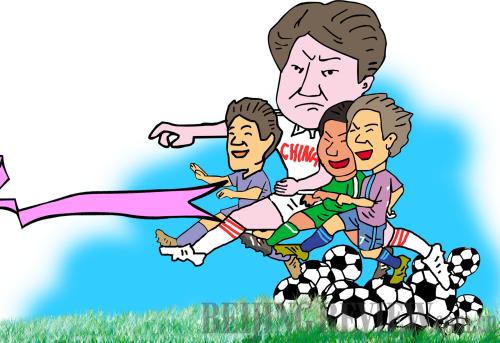 (LI SHIGONG) 
Earlier this year, a crackdown on football match-fixing and gambling was launched in China, ending with the arrest of several high-ranking officials with the Chinese Football Association, referees, coaches and senior club executives.
How can Chinese football come out from under the shadow that this situation has cast over it?
"It's time to make use of the state-support system to revive Chinese football," said Wei Di, the newly appointed Chinese Football Association chief. "The development of the sport should be in line with national conditions, rather than slavishly copying Western professional leagues models."
Wei put forward a proposal in March to introduce the Under-23 national team to the top division of China's football league, the U-21 side to the second division and the U-17s to the third division.
At present many of the players in the U-23 national football team are unable to play a major role in clubs, Wei said.
In accordance with Wei's proposal, if his scheme takes effect, every national team member, even if they are not major players, would have the chance to take part in more than 40 formal matches, including friendlies and international contests, every year. With enough matches, Wei hoped national team players' ability would make remarkable progress within three years.
Wei's proposal has incurred widespread criticism from sports media and netizens. Opponents said the scheme would deal a heavy blow to struggling professional leagues. The clubs would be hit hard if their better young players all left. If their excellent young players were all playing or trying out for national teams, clubs would no longer be motivated to train players. The training of young players in strong Western football clubs is mainly conducted in well-developed football leagues at various levels, to ensure every fledgling footballer has equal opportunities to participate in matches.
Regression
Yan Qiang (Titan Weekly): The state-support system is effective in mobilizing government administrative and financial resources for sports development. I believe this system will remain for quite a long time. But it is impossible to bring China's football to the front ranks of the world, because professional leagues have become the main feeders for world football.
The objective of the state-support system is to win gold medals, instead of boosting public participation in sports. China did not have football leagues in a real sense before professionalism-oriented reform was launched in the early 1990s. Except in amateur academies, the country lacked programs to improve the quality of play among adolescents and the young. As for amateur football activities, basically, no organization cared for them. So, although the state-support system helped Chinese athletes win gold medals in a variety of sports at the Olympics, it failed to raise the weak overall level of football in China, let alone making it part of Chinese people's lives.
With the advent of professional leagues, Chinese football bid farewell to a state-supported system. That was because football has its own rules of survival in a market system.
We can no longer go back to the original state of the moment when the first reform step was taken. A state-supported system is not unchangeable, nor is it a panacea.
Lu Yan (www.chinanews.com.cn): It's true 16 years after professional football leagues started, instead of making progress, Chinese football is still plagued by failures and all kinds of scandals. However, I would like to say this is the consequence of insufficient professionalism.
I do not deny the huge contribution the state-support system has made to China's excellent performance in competitive sports. If China's football goes back to a state-supported system, it's possible that in a short period of time, we'll see an improvement. Nevertheless, this system is unlikely to work forever.
First, when the state-support system is adopted, football as a sector of sports will be dominated by a selection of elite players and will move away from the public. More importantly, as this system features a highly centralized authority, it is still vulnerable to corruption. No one can assure the state-support system will exempt Chinese football from various new and old problems.
Becoming integrated with the world at large has become a trend. The state-support system is now considered lacking and its reform is a matter of time.
The way out for China's football is to standardize its operational rules and improve its professional leagues.
Bold reform
Zhang Yan (Chengdu Business Daily): Every time after scandals hit football leagues or the national football team is defeated, people will point their fingers at Chinese football's "disguised professionalism."
Many football fans believe, in order to improve the national team's performance, we need soundly operated professional leagues. Only when the players do well in leagues, will we have powerful national teams. This is not the case.
Take the English Premier League for example. It is a most successful mode of professional and commercial operation of football, but England is not the best team in Europe. In Brazil football leagues are not as well organized as in European countries. But Brazil has always been a World Cup favorite. This example at least proves the level of a country's football leagues is not necessarily transferred to its national team.
When China launched professional football leagues, the aim was not to raise the level of the sport but rather to exploit its commercial potential. Now, 16 years of attempts have proved professional football does not conform to China's conditions. At least, for the time being, we still lack the foundations necessary for professionalism.
As for the enterprises sponsoring football clubs, they actually do not mean to benefit from the market-based operation of football, but hope the sponsorship will bring them profit and interest outside the sport itself. When they fail to get what they want through football, it gives rise to corruption and various scandals.
Wei Di is looking for a development mode suitable for China's national conditions. No one says the state-support system will give up tapping a market for football and we all hope national team successes will make the market for Chinese football greater. Why not give it a shot, since we are already used to the trials of the past three decades?