The 2010 World Expo site is home to numerous dazzling pavilions. The pavilions can be grouped into several categories, including theme pavilions, foreign country pavilions and international organization pavilions, China Pavilion, pavilions for China's mainland provinces and Hong Kong, Macao and Taiwan, corporate pavilions and pavilions in Urban Best Practice Areas. A total of 246 countries and international organizations have brought their distinct culture and cutting-edge technologies to this grand event. Below are some of the country pavilions you should strive not to miss.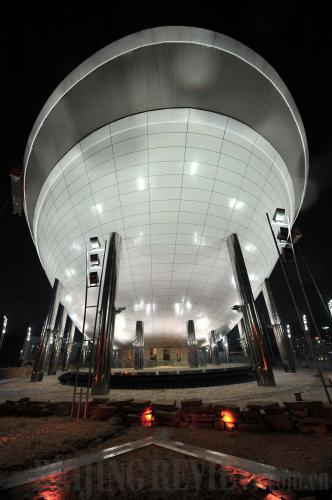 BOAT TO CHINA:Saudi Arabia Pavilion (CFP) 
Saudi Arabia Pavilion: A Moon Boat to China
Instead of building an oil tanker for the pavilion as many might have expected, the oil-rich Saudi Arabia decided to instead build a moon-shaped boat "loaded with dreams and friendship."
The Saudi Arabia Pavilion is entitled the "Arabian City" and features the theme of "the Vitality of Life." Its primary purpose is to demonstrate how to realize "better city, better life" in the harsh desert climate.
Four types of cities are highlighted at exhibitions in the pavilion: the City of Energy, the City of Oasis, the Ancient City With Rich Cultural Heritage and the City of the Fast-growing Economy. The exhibitions demonstrate that water, petroleum and knowledge are the lifeblood of Saudi cities.
Date palm trees are planted both on the rooftop garden and the ground-floor garden of the pavilion, making the pavilion like an oasis in desert. For thousands of years, Saudi Arabians have harvested date palms as food.
A gigantic 3D IMAX screen and other hi-tech facilities are installed at the pavilion. Colorful art performances are staged there.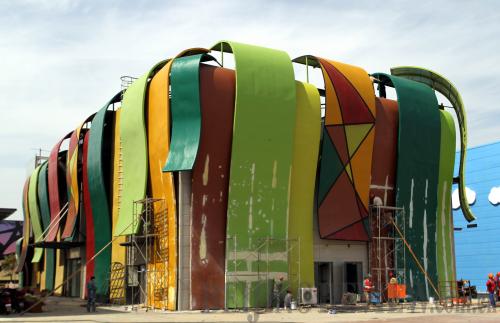 AN AFRICAN FLOWER:Angola Pavilion (REN LONG) 
Angola Pavilion: A 'Better Life'
The design of the Angola Pavilion is inspired by the welwitschia mirabilis, a flower unique to Angola. The brightly-colored dangling straps on the pavilion's exterior walls resemble the leaves of the flower that lives between 300 to 1,000 years.
The graceful, modern and attractive pavilion has the theme of "Angola Ensures a Better Life." It is divided into seven exhibition areas. Angola's diversified landscapes and beautiful scenery, history and culture are exhibited. Angola is rich in petroleum and diamonds.
The second floor of the pavilion houses a business center, which is a platform for cooperation and exchanges between Angola and investors from different parts of the world.