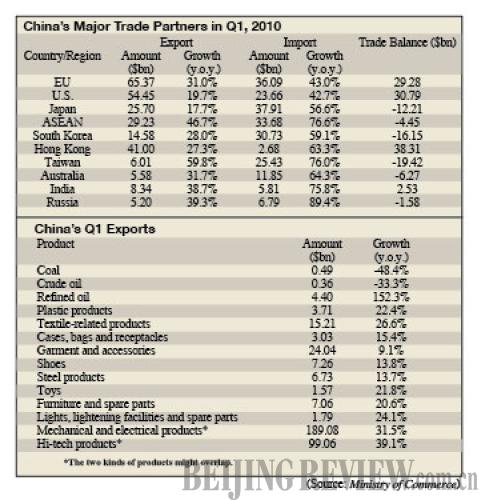 China is taking up a larger piece of the global trade pie as its 2009 exports accounted for almost one 10th of the world total that year. The Ministry of Commerce (MOFCOM) released a report on April 27 summarizing foreign trade in 2009 and the first quarter of 2010. MOFCOM also cautioned exporters of international market volatilities in the next half of 2010.
The MOFCOM report cited World Trade Organization (WTO) figures which said China's exports accounted for 9.6 percent of the world total in 2009, growing 0.7 percentage points from 2008. The WTO also noted China had surpassed Germany as the biggest exporter in 2009.
Even though China's proportion in global trade rose significantly in 2009, its export volume dropped 16 percent in 2009 due to sluggish international demand. In 2009, China's exports to the EU—China's biggest trade partner—dropped 19.4 percent while imports from the EU fell by only 3.6 percent. Among all countries, Japan was the biggest exporter to China last year selling $130.94 billion worth of goods to China, followed by the EU, the Association of Southeast Asian Nations, and South Korea.
Since the beginning of this year, the world economy has shown signs of recovery. The International Monetary Fund recently raised the world economic growth in 2010 from 3.9 percent to 4.2 percent. Domestic economic growth has also gained a solid foothold, and China's foreign trade has continued recovering so far this year, said the MOFCOM.
In the first quarter, rebounding demand in both domestic and international markets pushed up China's trade volume by 44.1 percent year on year to $617.85 billion. But due to the asynchronous recovery speed of domestic and international markets, imports grew much faster than exports, creating a downward trend in trade surplus, said the MOFCOM. First-quarter import growth even registered a record 64.6 percent and the trade surplus in the same period saw a slump of 76.7 percent.
In March alone, China experienced its first monthly trade deficit in 70 months. The MOFCOM report said this was due to the domestic demand rebounding more rapidly than the external market demand, while the price of imported goods rose higher than that of the exported products.
China regained its trade surplus in April, but the amount shrank considerably compared with the same month last year. The latest figures from the General Administration of Customs show April's trade surplus was $1.68 billion, falling 87 percent year on year.