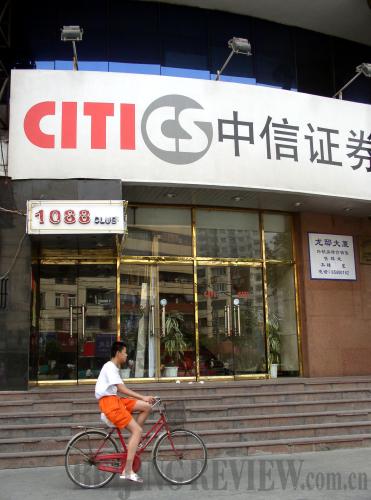 SECURITIES GIANT: As the biggest securities company in China, CITIC Securities Co. Ltd. looks to enter the international market by cooperating with Crédit Agricole S.A. of France (CNSPHOTO) 
Love is in the air as financial church bells ring, ushering in a bonding between CITIC Securities Co. Ltd. and Crédit Agricole S.A. (CASA). The Chinese company and the French bank are planning to establish a global investment bank and strategic brokerage alliance, said a memorandum of understanding signed by the two sides on May 3.
Assets incorporated into the cooperation framework include stocks and derivatives, as well as investment banking. The investment banking businesses in the framework cover financial consultancy business, business related to initial public offerings (IPOs) and others.
Subsidiaries from both sides incorporated into the cooperation include the institutional sales business and investment banking components of CITIC, as well as related businesses by CITIC's subsidiary in Hong Kong, CITIC Securities International Co. Ltd. Affiliates of CASA include Calyon Bank and subordinate Credit Agricole Cheuvreux S.A., Credit Agricole Securities (USA) Inc. and Credit Lyonnais Securities Asia (CLSA). Cooperation includes, but is not limited to, business coordination, customer resources sharing and establishing joint ventures.
Currently, CITIC and CASA are in exclusive negotiations about their securities brokerage and investment banking businesses. The early May announcement said the two parties would establish an investment bank in the Asia-Pacific Region by reorganizing related subsidiaries and businesses of CITIC, the Asia-Pacific subsidiary of Calyon Bank and CLSA. They will also jointly establish a global platform for stock brokerage and derivative business.
Although details are still being ironed out, most industrial insiders think it is likely CITIC and CLSA will establish a joint venture. CITIC is likely to offer funds from its abundant reserves in cash. CITIC's annual report last year showed the company's net profits and cash assets reached 8.98 billion yuan ($1.31 billion) and 20 billion-30 billion yuan ($2.93 billion-$4.39 billion), respectively.
Industrial insiders think cooperation between CITIC and CASA will be immeasurably helpful to complement and perfect the business framework of both sides.
The cooperation is subject to approval by the China Securities Regulatory Commission.
Xie Zuping, an analyst of Wanguo Stock Market Forecast and Consultancy Co. Ltd., said the success rate of overseas acquisitions by Chinese companies is quite low. In early 2008, Ping An Insurance (Group) Co. Ltd. of China announced plans to purchase 50 percent of Fortis Investment at 2.15 billion euros ($2.7 billion). By October 2, 2008, the unrealized losses for Ping An in its investment in Fortis Investment had reached 15.7 billion yuan ($2.3 billion). For this reason, the supervisory authority may be prudent in approving CITIC's purchase of CLSA.
CITIC's international steps
CITIC Chairman Wang Dongming said on May 3 the cooperation between CITIC and CASA marks another important step for CITIC in its international development.
As for retail bank, asset management and asset investment businesses not incorporated in the memorandum this time, CITIC will launch further international development plans in the future, Wang said.
CITIC, established on October 25, 1995, was listed on the Shanghai Stock Exchange on January 6, 2003.
In its first year, CITIC operated on a micro-scale. During the mid-1990s, the eminent securities companies in China's capital market were Guotai Junan Securities Co. Ltd., Shenyin and Wanguo Securities Co. Ltd., Huaxia Securities Co. Ltd. and Nanfang Securities Co. Ltd. Since the second half of 2003, CITIC has adopted a strategy of expansion, purchasing three securities companies—Huaxia Securities Co. Ltd., Fortune Securities Co. Ltd. and Kington Securities Co. Ltd.—to become the biggest comprehensive securities company in China. In 2007 it began to expand overseas.
In October 2007, CITIC signed an all-encompassing strategic cooperation scheme with Bear Stearns Companies Inc. from Wall Street. The two companies would hold around $1 billion in each other's shares through an exchange of stocks and establish a 50-50 percent joint venture in Hong Kong to develop new businesses. While the agreement was under approval by Chinese supervision authorities, the sub-prime crisis broke out and the former fifth largest American investment bank took a substantial hit. Bear Stearns was later acquired by JP Morgan Chase & Co., allowing CITIC to dodge a financial bullet.
Though its strategic cooperation plan with Bear Stearns was terminated, CITIC announced its strategic development goal hadn't changed and it would continue to advance its international development strategy.
In March 2009, CITIC established a joint investment banking business with Evercore Partners Inc., an independent investment bank based in the United States, taking its first step in cooperation with international institutions.
The cooperation between CITIC and CASA will significantly enhance the competitiveness of CITIC in the international market.
The CITIC-CASA deal is the second overseas acquisition made by a Chinese securities company. The first was Haitong Securities Co. Ltd.'s purchase of $235 million in shares of Hong Kong-based Taifook Securities Co. in November 2009.