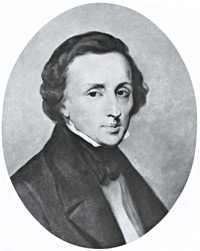 Frederic Franciszek Chopin (FILE)
A fever in China to learn the piano that took root in the 1980s boosted Chopin's popularity in the country. The piano, a Western instrument, also attracts millions of people in China who love the music it produces.
Since China carried out the reform and opening-up policy 30 years ago, it has gradually become a piano-manufacturing giant. Its yearly output of pianos comes to 300,000 now, ranking first in the world. And the number of those learning to play is swelling still. Statistics of the Chinese Musicians Association show China now has more than 30 million people learning to play the piano, the largest number in the world.
With greater numbers of children attending piano schools, competition is becoming more intense, and the level of playing skills of Chinese players is also improving rapidly. A great number of piano competitions and grading tests are held all over the country, through which many young learners show their talent on the keyboards and even win prizes in international competitions.
Li and fellow Chinese virtuoso pianist Lang Lang, whose concert on December 7 last year kicked off a series of Chopin concerts in China this year, are examples of these young talents.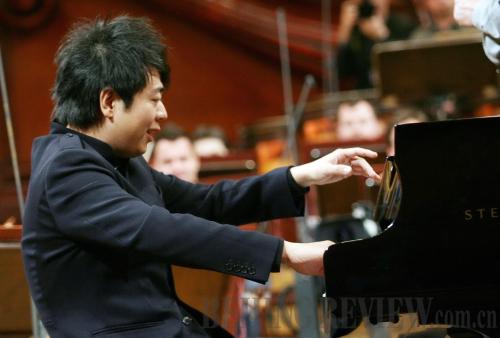 IMMERSED IN MUSIC: Lang Lang was invited to perform at a concert in Warsaw on January 7, when the global celebrations for the 200th anniversary of Chopin's birth was launched (CFP)
Chopin wrote 27 piano etudes throughout his life, and all perfectly combine piano-playing technique and beauty. These etudes are often selected as pieces for concerts and blazed a new concept in the composition of the form.
When playing Chopin's etudes, players are not only able to practice their skills fully, but also can enjoy the charm of the pieces. Chopin's etudes, which are made an important part of learners' practice, have exerted an influence on young learners from the beginnings of their musical journeys.
Different from other composers, Chopin dedicated his whole life to piano. He was one of the few musicians in the world who concentrated on composing for one type of instrument. He wrote hundreds of masterpieces for it with a variety of themes. His devotion to the piano and his legendary life garnered a great deal of admiration from numerous Chinese piano lovers. Many learners in China like to practice Chopin's music, and some even started to learn the instrument simply because of Chopin.
Resonance
The musician's influence is not limited to learners. As Chopin's music is lyrical and passionate, its impact on the Chinese moved far beyond just classical music.