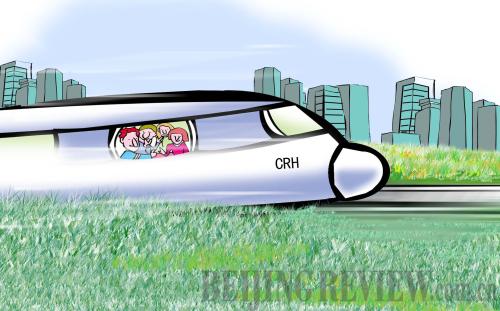 (LI SHIGONG) 
My seat was in the full, upright position as one of the attendants came by. I showed her my ticket, to which she smiled and said, "Enjoy your trip." The seat was spacious and comfortable. I'd paid extra for business class. And I had a window seat. A muffled voice came over the loudspeaker, informing us about our departure time and destination. Before I could ask for a complimentary drink, we were off—the inter-city train for Tianjin leaving the station without so much as a jolt or engine start.
I wouldn't have even realized we were moving had the scenery outside my window not changed from Beijing South Railway Station to the southern outskirts of the city. Not five minutes after departing the station, we were cruising at a smooth 300 km per hour toward Tianjin. I didn't even have time to soak up the scenery—we arrived at the coastal city 30 minutes later.
I'm not sure what was more impressive: the lack of any clickety-clacking sounds as we glided briskly along or the fact I was enjoying a train ride in the first place (and a nice train at that).
In the United States, train rides are usually limited to special occasions. As a child, I usually got the thrill of feeling the rails beneath my feet during local heritage day festivals, when large locomotive engines were brought in, billowing smoke and blowing their whistles.
My hometown in Pennsylvania was once a major commercial and industrial rail hub during the Industrial Revolution and the years following. People could catch a train to New York City, Philadelphia or just about anywhere along the east coast.
But now, taking a train is restricted to that once-a-year occasion. Of course, there is the Amtrak link between Washington, D.C. and New York City, but for anyone outside those two metropolitan areas in America's east, train travel—particularly high-speed train travel—is excruciatingly limited.
Not so in China. Trains, as many Chinese friends and co-workers told me, were more widely used than planes.
Last July, I took an overnight train to Xi'an in Shaanxi Province. I was skeptical about spending the night on a train in motion—I usually don't sleep well on airplanes or while traveling in general—but slept like a baby. It was the calm, consistent rolling of the wheels that helped me sleep. I awoke only once, and that was due to the snoring of the guy in the bunk above me.
But it was the train to Tianjin that sold me on how truly convenient and modern China's vast rail network has become. I'd heard high-speed trains were, first of all, fast, but also smooth rides. Like taking a toboggan down a frozen sheet of snow.
While entertaining family visiting from the States, I suggested we visit Tianjin, to see the city and, as part of my secret agenda, to take the high-speed inter-city train. We were all pleasantly surprised.
The seats were more comfortable and spacious than the business class sections of most aircraft I'd taken over the past few years. I had plenty of room to relax and stretch my legs. There were complimentary beverages.
As we left the station, a tiny monitor showed our speed as it jumped from 50 km per hour to 340 in the blink of an eye. We were shooting along faster than I'd traveled outside the fuselage of an aircraft, minus the roar of plane engines or occasional—and terribly unnerving—turbulence.
It was, as I would imagine, like floating on a cloud—an extremely fast cloud. And somehow, despite knowing the trip would last only 30 minutes and admiring the flashes of scenery that passed, I inadvertently fell asleep, a victim of the silent, monotonous drone of wind on train's roof. Five minutes later, I was shaken awake as we reached our destination.
It had taken us half an hour to cover the 120 km distance from Beijing to the port city, a distance that would have taken triple the time traveling in the United States by car (the only method available to most Americans), even on an interstate highway.
But what gave the trip real meaning was that I'd made this trip to Tianjin before, only by bus—and it took two and a half hours that time.
China will continue to improve and expand its system of high-speed rails, eventually connecting the entire nation with newer, faster trains. And while it will obviously take longer than 30 minutes to get to many of China's major urban centers, the travel experience will be enhanced and made more enjoyable with a fleet of high-speed engines.
In the coming years, America, too, will invest in a high-speed rail network, an undertaking put forward by Barack Obama last year, and take a page from China's book on providing fast, quality rail service as a cheap alternative to air travel.
Friends from abroad have told me about the amazing bullet train (Shinkansen) in Japan and the super-fast Chunnel train connecting Great Britain and France. Now I can tell them about the Beijing-Tianjin inter-city train and China's future as a nation connected by high-speed rails.
The author is an American and works in Beijing