Urgency to address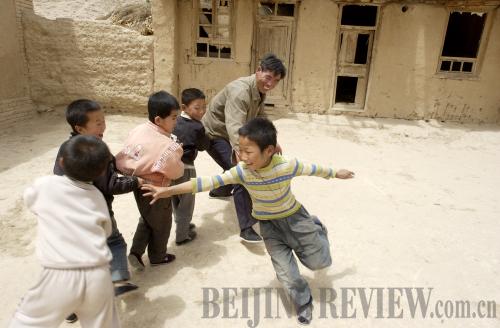 POOR SCHOOL: In a physical education class in a rural primary school in Jingyuan County, Gansu Province, a teacher plays the old-fashioned game of "eagle catching chicks" with the students (CFP) 

"At present, although society has become more tolerant of the income gap, if the widening of the gap is not curbed, the consequence could be terrible," said Yang Yiyong, Director of the Social Development Research Institute of the NDRC. Last year, China's per-capita gross domestic product was close to $3,700, and China was in a critical stage of economic transformation and social structure adjustment. Experiences from Latin America prove that at this stage, countries should guard against economic stagnation, widening income gaps and social unrest.

Su believes that an unsound income distribution system is the direct cause of salient income distribution problems. How incomes should be reasonably distributed among the government, enterprises and individuals, however, has not been clarified during the primary distribution. Labor remuneration is relatively low, and the mechanism to make it increase regularly has not been established. As to income redistribution, there is no clear stipulation on how much fiscal revenue should be spent on social security and other transfer payments, so it is hard to ensure the equity and rationality of income redistribution. China's philanthropy industry is small in scale and does not have a full-fledged system, and plays a limited role in the third distribution.

Unreasonable primary income distribution has reinforced the trend of "strong capital, weak labor," Su said. He said the share of labor remuneration in total incomes is quite low, and the growth speed of laborer's incomes lags behind that of enterprises' profits. Su pointed out that in developed countries, salaries usually account for about 50 percent of an enterprise's operation cost, whereas in China, this percentage is less than 10.

Relevant experts believe it is imperative to reform the income distribution system as soon as possible. The reform should tackle both the symptoms and the root causes of the enlarging gap, and the reform efforts should be comprehensive, concerted and coordinated. n

The Many Shades of Income

Many people, including scholars, government officials and ordinary residents, believe incomes in China can be divided into five categories: "white income," "black income," "gray income," "bloody income" and "golden income."

"White income" refers to salaries and fringe benefits. "Black income" is illegal income from criminal activities such as robbery, fraud, bribery or drug trafficking. "Bloody income" is income obtained by sacrificing the lives or health of others. "Golden income" is income from capital such as gold, stocks and futures. "Gray income" is a blend of white and black incomes.

Scholars disagree on the definition of "gray income." Some think the term refers to income from "secret" sources, or unrecorded or unreported income. Some believe that incomes are either white or black, so any income obtained by seeking personal gains using the power inherent in one's public position is black income in essence, whatever names they may be called.

"Gray income" is prevalent in all walks of life. It comes under a variety of names such as rebate, commission, service fee or gift money.