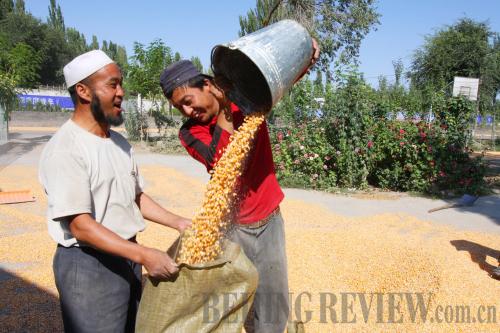 RURAL WEALTH: Farmers enjoyed a bumper harvest of corn in Yili, Xinjiang (ZHANG XIUKE) 
While China's coastal provinces basked in the glow of an economic boom following the reform and opening-up policy in 1978, far-west inland Xinjiang was largely left out of the prosperity. But now the region has been lent a helping hand to catch up.
The Central Government recently unveiled a 10-year partner assistance program to power up the growth engine of the Xinjiang Uygur Autonomous Region. The program is part of the Central Government's vigorous efforts to foster economic prosperity and social stability in the remote and sparsely populated region.
More specifically, 19 relatively affluent regions including coastal and central provinces and big cities like Beijing, Shanghai and Shenzhen, will pipe support into different areas of Xinjiang during the next 10 years. In addition to financial aid, efforts will also be made to improve employment, education and housing conditions for the poor in the region.
Except for Urumqi, capital of Xinjiang, and Karamay, a relatively developed city, the rest of Xinjiang will receive aid. Northeast China's Liaoning Province, for instance, will focus on assistance to Tacheng in northwest Xinjiang while Hunan Province will funnel its aid to central Turpan.
The economy of Xinjiang has been gathering steam in past years, but the growth relies heavily on its rich natural resources. Adding to the economic vulnerability are weak infrastructure, acute poverty in southern areas and adverse weather conditions.
Xinjiang still faces daunting challenges in capital, technology, management expertise, as well as social welfare and education, said Wei Houkai, Deputy Director of the Institute for Urban and Environmental Studies under the Chinese Academy of Social Sciences.
It would be very difficult for the region to quickly bridge the gap without help from the Central Government and fellow provinces and cities, said Wei.
But this is not the first time that other areas have extended a helping hand to Xinjiang. China has been running a similar partner program since 1997, but this time it is expected to be more effective and more instrumental in steering Xinjiang on the fast track to development.
This is the first time the government has clearly set quantified targets for assistance, said Jurat Imin, Deputy Secretary of the Hotan Prefecture Committee of the Communist Party of China, in an interview with China Daily. Hotan will be grouped with Anhui Province, as well as Beijing and Tianjin municipalities.
There are reports that all 19 regions are required to contribute 0.3-0.6 percent of their annual fiscal revenues from 2011 to 2020 to support Xinjiang's development. The total economic aid in 2011 is expected to reach 10 billion yuan ($1.46 billion), nearly 26 percent of the fiscal revenue of Xinjiang in 2009.
Wanting to spur an economic boom in Xinjiang, the government has tried to be a better matchmaker. Economies with greater financial muscle, such as Guangdong Province and Beijing, will help the least developed areas such as Hotan and Kashgar. Meanwhile, the three northeastern provinces—Heilongjiang, Jilin and Liaoning—will partner with Tacheng and Altay in the northern part of Xinjiang since they have similar climatic conditions.
"Most importantly, we could learn from the partner assistance scheme for the quake-hit Sichuan Province," said Jurat Imin.
In a move to accelerate reconstruction in Sichuan and neighboring provinces, 18 provinces and cities teamed up with different disaster-stricken counties and contributed 1 percent of their annual fiscal revenues in assistance.
Plan in action
Though the program will not officially come into effect until 2011, the 19 regions have been making vigorous efforts to hammer out detailed plans for the assistance. In the past two months they have sent a number of investigation groups to Xinjiang to get a clear picture of the local economies, and many have already announced their initial steps. Beijing, for instance, plans to commit 7.26 billion yuan ($1.06 billion) over the next five years to improve housing conditions and protected agriculture in Hotan Prefecture. Guangdong Province will spend at least 9.6 billion yuan ($1.41 billion) on infrastructure and social welfare in Kashgar Prefecture.
Among the most dedicated provinces was Heilongjiang Province that will partner with the No.10 Division of the Xinjiang Production and Construction Corps and three poverty-stricken counties in the Altay Prefecture including Fuhai, Fuyun and Qinghe.
In December 2009, Altay suffered the heaviest snowstorm in 60 years that crushed numerous houses and roads. The biggest victims were the nomads as blizzards destroyed vast grassland, leaving their sheep nowhere to graze. As part of its disaster-relief effort, Heilongjiang has planned to invest 60 million yuan ($8.79 million) this year to help with reconstruction and disaster prevention measures, including a number of water resource projects. In addition, efforts have also been pledged to settle the wandering nomads and help them build houses and find jobs.
Despite a fragile economic foundation, the future of Altay looks more promising. The region blisters with rich mineral resources, including gold and bronze. But mineral exploration has stalled due to a lack of financing. So an important goal of the assistance is to provide a sustainable source of funding and push forward mineral exploitation.
"We will spare no effort to adequately push through the support measures and pump fresh steam into the economy of Altay," said Song Xibin, Director of the Development and Reform Commission of Heilongjiang Province.
Song also hopes the program could be an opportunity to deepen cultural and educational communication.
"We are very grateful for the significant help from Heilongjiang, and will also closely coordinate with our partner to pave the way for an economic boom and improve the livelihoods of residents," said Qi Guoqing, Secretary of the Fuhai County Committee of the Communist Party of China.