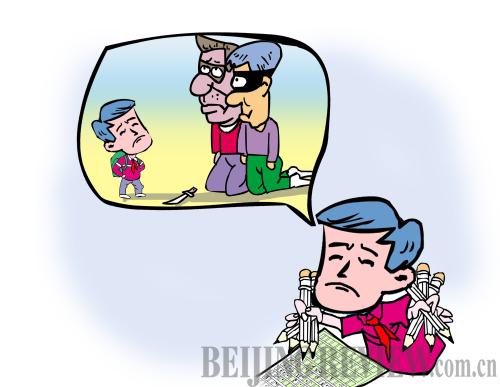 (LI SHIGONG) 
A greater number of primary school students are inventing stories and telling lies when they are supposed to be writing about personal experiences. The Chengdu Business Daily said, of 40 pupils in a grade-four class, 30 wrote about how they struggled with human traffickers or thieves, and 26 pupils admitted they made the stories up.
An online survey by the Social Survey Center of China Youth Daily shows 83.3 percent of respondents used to fabricate stories for compositions during their school days. The survey also finds 75.6 percent of respondents believe "lying in compositions" would impair development of children's observational skills, 74.3 percent of them believe it would curb students' expression of real feelings and 60.1 percent believe the compositions discourage honesty and integrity in students. Only 6.5 percent say telling lies in compositions would do no harm to students.
Professor Xiao Ying at the Philosophy Department of Tsinghua University in Beijing said telling lies in compositions inflicts negative impacts on a child's mental health. "As long as cultural and social soil for 'lying compositions' is allowed to remain, we'd better not expect students' articles involving real feelings in the future," he said.
Meanwhile, others say students' compositions may be regarded as a type of literary creation that allows reasonable play of the imagination. Without specified restrictions, students are free to write about things they have not experienced. They believe, since students' writing courses focus on improving their skills and ability of expression, it is going too far to involve "honesty" and "integrity" in the process.
No big deal
Huangpu Tian (hlj.rednet.cn): Although many people have admitted fabricating stories when writing compositions as students, there is no hard evidence these people have turned into immoral or mentally disturbed citizens because of it. Our society is in the midst of a moral crisis, but the root cause is people's unrestrained quest for quick money and fame. This crisis has nothing to do with how students write their compositions.
Moreover, those who criticize "lying compositions" and the method of teaching behind it are adults who regret making up stories when they were young. This self-examination is nothing but a sign of integrity. So making up stories in compositions has nothing to do with integrity.
Good compositions result from diversified life experiences, keen observation, wide reading and a lot of practice. Students in the current education system hardly have these. Besides going to school, students also have to do homework and attend after-school classes. They have few opportunities to observe society and not enough time as they would like to read or practice writing. Therefore, they cannot write compositions without making up stories.
Lying in compositions is a result of the current education system. Therefore, if we want students to write about their real life and also write excellent articles, the first thing is not to force them to write, but teach them to observe life and do more reading.
Wang Xuejin (China Youth Daily): The so-called "lying compositions" are actually imaginative articles. For primary school students, how to write articles based on their imagination is a primary task for their writing courses and teachers should encourage them to use their wildest imagination. We want to see primary school students writing science fiction. It is a pity that not many students have the capacity or interest. As a result, teachers have to read many dull compositions and rarely witness articles from fertile imaginations. The scary thing is writing teachers are also unable to stimulate students' imaginations but have to force them to write about topics that may appear on high school or college entrance exams.
In a word, all the problems regarding education in China are attributable to the exam-oriented system in primary and secondary schools, which has significantly curbed students' imaginations and innovative thinking. Students become identical products from the assembly line, without individuality or their own characteristics.
He Dao (www.cri.cn): When primary school students with very limited life experiences are required to write a composition on a narrow topic, they have no other choice but to make up stories. Otherwise they might fail their exams.
The people who insist students shouldn't invent stories are requiring these compositions to meet the standards of literary masterpieces. All classical poetry and prose passed down through generations are, without exception, the reflection of actual, pure feelings from the bottom of the author's soul. Creative writing, however, also requires literary fabrication. Although a majority of excellent fiction originates from the authors' experiences, if all the events were factual and no fabricated scenarios were added, they would be dull and boring. Literary works also include purely fabricated genres, such as science fiction and fantasy novels.