WATER SOLUTION: The Venice Pavilion at the Urban Best Practices Area of the World Expo showcases the famous water city's practices in protecting historical heritages and balancing urban life and environment (YU XIANGJUN)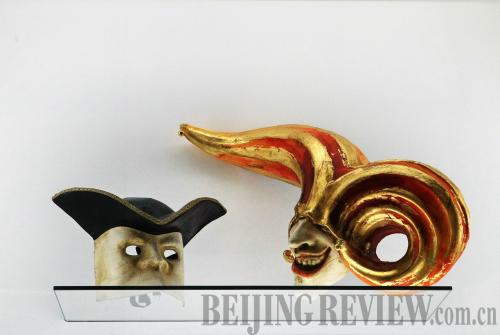 CULTURAL SYMBOLS: Venetian carnival masks add to the Venice Pavilion's appeal to visitors (YU XIANGJUN) 
Greek philosopher Aristotle once said, "People come to cities for a living, and live in cities for a better life." The Urban Best Practices Area (UBPA) of the World Expo in Shanghai illustrates this idea brilliantly. The UBPA is unique to this year's Expo: For the first time, cities are provided with a chance to participate in the World Expo as independent players.
The UBPA seamlessly integrates multiple functions such as urban life, work, leisure and transportation. The area shows how representative cities have implemented practices that have improved the overall quality of urban life, and these have been globally recognized for their innovation and creativity.
As cities have created greater convenience and opportunity for residents, they have also incurred headaches: overpopulation, traffic congestion, environmental pollution, resources depletion and friction between cultures. The UBPA offers a platform for nearly 80 chosen cities to exchange ideas and practices.
The UBPA is divided into three sections. The southern section is designated the Global City Plaza. The Harmony Tower—the chimney of the refurbished Nanshi Power Plant—is a landmark that can be seen from miles around the Expo Park. Located at the southern end of the UBPA, the tower is more than 200 meters high and is equipped with a cable car that can take up to 300 people to an observation platform—the highest point of the park.
The central section features old power plants that have been renovated into four pavilions. Each pavilion has a set theme. The northern section is built to resemble a real-life city block featuring buildings, open spaces and municipal infrastructures.
Located in the Puxi area, the UBPA is not as densely packed as some of the Expo pavilions in the Pudong area. Visitors don't have to waste time waiting in lines. The exhibitions there are ingenious and colorful: The Philadelphia exhibit shows possibilities for future schools; the Liverpool exhibit displays the protection and utilization of historical heritage; the Bremen exhibit makes suggestions for solving transportation problems; and the Shenzhen exhibit showcases an "art village," exploring the influence of city life on art creation.