Sun Liansheng (GONG HAIYING) 
The Urban Best Practices Area (UBPA) of the World Expo in Shanghai aims to introduce various ongoing practices designed to improve the quality of urban life as global urbanization increases, and provide a platform for all the cities of the world to share and exchange experiences in urban management and development.
In an exclusive interview with Expo Weekly reporter Gong Haiying, Sun Liansheng, Director of the UBPA Department of the Bureau of Shanghai World Expo Coordination, shares the story behind preparing the unique project.
Expo Weekly: It is reported that Expo organizers received 106 representations from 87 cities all over the world for the UBPA. Eighty were chosen to serve as case studies. In the face of so many choices, what were the criteria for selection?
Sun Liansheng: The qualifying criteria were based on three principles: First, selected best practices must be universal, innovative and paradigmatic; second, they should contribute to a balance in terms of representation of different parts of the world, and different approaches to solutions; and third, the way they display their practices should have the power to appeal to a broad spectrum of visitors. Upholding these three criteria, the UBPA International Selection Committee (ISC), consisting of 15 representatives from major international organizations, made their selection.
After the UBPA exhibition cases were chosen, what was the most difficult part of the construction phase?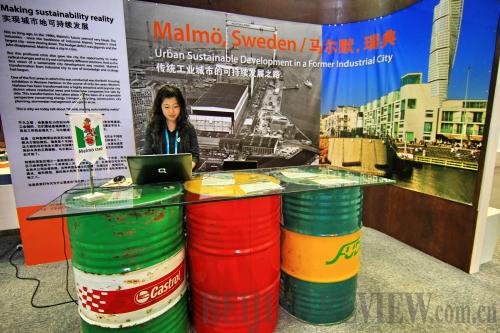 BIG SUCCESS: The Malmö Pavilion in the Urban Best Practices Area of the World Expo shows a feasible road for old industrial cities' transformation to sustainable development (YU XIANGJUN)

Since the UBPA is unique to this Expo, we could not tell who would be willing to be involved. Another difficult part was the construction of pavilions. Since the investment of the participating cities was large, it was not easy to reach an agreement on the pavilion construction contract.

A "livable city" is a common goal for many urban administrators. What should a "livable city" be like?

In my view, a "livable city" should meet at least three standards: First, minimum "green coverage" should be at least 50 percent; second, urbanites should be entitled to comfortable and convenient personal and public space; third, they should be able to enjoy a healthy lifestyle through public facilities and services.

Which parts of the UBPA would you recommend to visitors?

Each of the 80 UBPA cases from Chinese and foreign cities is worth recommending and promoting, because each is wonderful.

As we all know, urbanization has posed many problems for human development. The UBPA examples excel in solving these problems and prescribing effective solutions. For example, Madrid's low-income housing offers a solution for city dwellers who could not normally afford housing.

In the areas of energy consumption and urban construction, the Hamburg House, Alsace Pavilion and London's Zerocarbon House all offer experience and solutions.

The UBPA reportedly will be preserved permanently. Why?

The buildings in the UBPA will be preserved, but the exhibits inside will be removed when the Expo ends. The Shanghai Municipal Government will draw up plans on how to use these buildings. The pavilions in the UBPA are not isolated exhibition halls, but a cluster of open buildings and spaces. Entering the UBPA is like wandering around in an old town in Europe, with residential houses, art galleries, office buildings and bicycle lanes. These blocks will be put directly into use after the Expo, and will definitely play a leading role in shaping urban development ideas and practices in Shanghai.

It is correct to say all Chinese cities will be able to find inspiration in the UBPA, where there are exhibitions from both developing and developed countries. Some of these cases can be adopted in whole, while others can be practiced in part, such as the Brazilian method of treating outdoor advertising billboards.