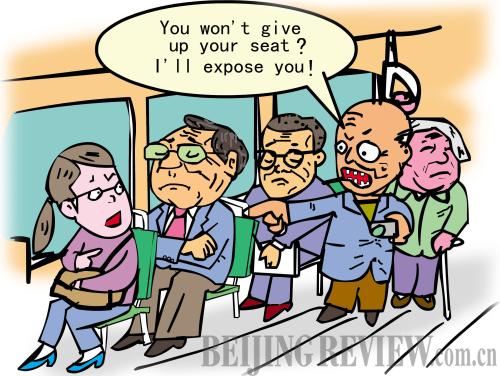 (LI SHIGONG) 
A recent popular post on the Internet concerns friction on a bus in Hangzhou, east China's Zhejiang Province. A young female passenger surnamed Wu refused to give her seat to a 77-year-old woman when she was asked to do so by an elderly man surnamed Li. Li took out a camera to take photos of Wu and threatened to post them on the Internet. Wu demanded Li delete the photos on the basis of privacy infringement. After Li refused to delete the photos, Wu called the police. At the police station, Li eventually deleted the photos after copying them to the police station's computer.
Whether it should become mandatory for seated bus passengers to give up seats to needy people has become a topic of debate in China. Zhengzhou in central China's Henan Province once planned to enforce a 50-yuan ($7.4) fine on bus passengers refusing to give their seats to needy or elderly people. Buses in Handan, northern Hebei Province, distributed a small gift and a 50-ride bus card to passengers who gave their seats to the elderly, pregnant women and the handicapped. When these policies were announced, many people debated them online, as enthusiastically as they commented on the photo-taking incident in Hangzhou.
Some people believe it is just basic good manners for young people to give their seats to the elderly and it was shameless of Wu to ask Li to delete her photos. They think it necessary to post Wu's photos online so the public could condemn her conduct.
Other people say young people pay the same fare as the elderly, and therefore have no obligation to give up their seats. They think it was unreasonable of Li to use taking photos to force Wu to give up her seat. These people worry once Wu's photos had been posted online, her life would be disturbed and her privacy would be violated.
Ethical lapses unforgivable
Liu Kailing (www.china.org.cn): We shouldn't confuse improper conduct with violation of laws and we have no right to invade other people's privacy online. But, while it is a moral requirement for passengers on regular seats to give their seats to needy riders, those sitting on priority seats are legally obliged to give up their seats. In the incident in Hangzhou, Wu reportedly sat on a priority seat.
According to China's Law on Protection of Consumer Rights and Interests, after buying bus tickets and getting onto the bus, passengers establish contract relations with bus companies. Just as the companies should be responsible for the safety of the passengers, passengers have the obligations to obey their contracts with companies and respect the use of priority seats. Therefore, young passengers on the priority seats who refuse to give their seats to the needy should not only be subjected to moral criticism, but also be punished for breaking their legal contracts with the bus companies.
Zheng Wen (Chinese Business Morning View): An elderly man in his 70s took photos of a bus passenger who refused to give her seat to a senior citizen and vowed to post the photos on the Internet. This is nothing but a defense of high moral standards. We should applaud the elderly man's deed. Legally speaking, the infringement on the rights of others not to have their photographs taken occurs when they are taken for the purpose of profit. Li's efforts to expose improper bus etiquette were to promote good conduct, which should be supported by the law.
I don't think there should be debate on whether it is acceptable to post photos online of bus riders who refuse to give their seats to needy passengers. In fact, exposing these selfish passengers' acts is the most suitable punishment, and will help to create a sound social environment.
Qiao Shan (Western China Metropolis Daily): The ethical level of a society is reflected by two indicators. First is the number of people with moral self-discipline. Second is the number of people who try to maintain social ethical standards, such as Li. When we think about why our society fails to improve its standards, an important reason is that there are too few active advocates of good manners like Li.
Taking what happens on buses as an example, those who give their seats to others will only get a smile in return while those refusing to give their seats to the needy can get away with it. In the long run, the selfish bus riders will never change their behavior and proper bus etiquette won't prevail.
Guidelines needed
Qin Chunlan (Yanzhao Evening News): Whether to offer seats to the old is in nature a moral rather than a legal issue. If a youth refuses to offer his or her seat to the elderly, the possible way of condemnation, education and guidance is the right road morally. In this case, this old man planned to take photos of the young woman and put them on the Internet. This is a violation of the young woman's rights and so the original moral issue will become a legal dispute—it's not that the young woman will violate the law, but the old man will.
The old man will put the young woman in a dangerous position, as she would be likely to become an attack target for the whole of society. Worse still, if an actual search for her, or stalking, was carried out in real life the lady's daily life would be disturbed.