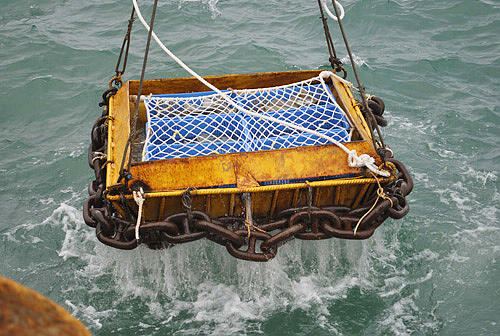 SUCCESSFUL OPERATION: A batch of ancient porcelain ware is salvaged from Nan'ao 1 on May 16, 2010 (CFP)
After a monthlong investigations, the archaeological excavation of relics on board Nan'ao 1, a merchant ship of the late Ming Dynasty (1368-1644) long entombed in the deep, began on May 10, 2010. By now, more than 4,000 porcelain items, mostly intact, were salvaged.
Salvaged relics
Lying on the sea floor about 27 meters below the surface, the vessel was first discovered in waters off Nan'ao Island in Shantou, south China's Guangdong Province, on May 25, 2007. With its upper structure missing, the wreck is approximately 25 meters long and 7 meters wide. But, covered in a thick layer of silt, the ship and its cargo were very well preserved.
The artifacts found in the sunken vessel were mostly porcelain ware, the Guangdong Bureau of Cultural Heritage (GBCH) said. Most of it was blue and white porcelain plates, bowls, cups, pots and vases made in Pinghe, southeast China's Fujian Province, and Jingdezhen, east China's Jiangxi Province. In addition, a small number of glazed pottery jars, iron pots, and copper plates were found.
"The private kilns in Pinghe were famous for their porcelain production for overseas sale during the Ming and Qing dynasties (1368-1911)," said Chen Huasha, a porcelain expert from the Palace Museum in Beijing. "By comparison, the products in Jingdezhen were of finer workmanship and usually with thinner roughcast."
Before the salvage, the estimated number of chinaware pieces in the sunken ship was between 10,000 and 60,000. "Undoubtedly Nan'ao 1, which was carrying a large cargo, is a rare undersea treasure, but it's still too early to predict how many cultural relics it contains," said Wei Jun, Deputy Director of the GBCH, who is also in charge of the underwater excavation of the vessel.
Among the discovered relics, six copper plates and some copper coins have drawn wide attention, because overseas copper trade was prohibited during the Ming Dynasty, leading some to think Nan'ao 1 was a smugglers' ship. But copper material alone is not enough evidence to prove Nan'ao 1 guilty of smuggling, experts said.
Li Ji, Deputy Director of the Palace Museum, said some trade laws issued by the imperial court existed in name only, especially in the late period of the dynasty. So it was common for a merchant ship to carry secretly contraband goods. In addition, copper materials may have served as ballast.