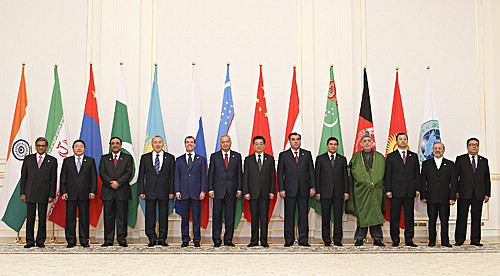 LOOKING AHEAD: Leaders focus on regional security and development at the Shanghai Cooperation Organization Summit in Tashkent on June 11 (JU PENG)
The Shanghai Cooperation Organization (SCO)'s member states collective position on international issues was spelled out at the organization's 10th annual summit in Uzbekistan.
The SCO also adopted regulations to improve its internal governance.
Nine years after its founding, the SCO has become a mature organization with an increasingly wide reach and growing global influence, Chinese analysts say. Discussions at the most recent summit were likely to contribute to peace, stability and development in the region and beyond.
Presidents of China, Russia, Kazakhstan, Tajikistan and Uzbekistan, as well as Kyrgyzstan's foreign minister, participated in the summit on June 11 in Tashkent. They addressed issues ranging from security challenges to economic and cultural cooperation. Also approved were regulations on the admission of new members as well as procedural rules designed to enhance the organization's efficiency.
Security concerns
This year's summit was held against the backdrop of dramatic—and at times tumultuous—developments in the world community, said Zhao Mingwen, Director of the China Center for Periphery Security Studies of the China Institute of International Studies.
While the deteriorating situation in Afghanistan continued to pose a grave threat to regional security, Kyrgyzstan has also experienced political turmoil and unrest in recent months. Nuclear non-proliferation and disarmament have gained currency, with the signing of a new strategic arms reduction treaty between the United States and Russia in April and the convening of the Washington Nuclear Security Summit in the same month.
In these respects, the SCO Summit conveyed distinct messages. In a declaration issued at the end of the summit, the organization reaffirmed its backing of the UN's leading role in coordinating international mediation efforts for Afghanistan.
Military means alone could not resolve the Afghanistan issue; instead, the SCO members support a negotiation process led by the UN and involving the Afghan people. The declaration also urged respect for Afghanistan's history, ethnic culture and religious traditions.
At the same time, the SCO called on the international community to intensify the fight against drug production and trafficking in Afghanistan, while promising to cooperate with international and regional institutions on drug issues. In particular, member states expressed readiness to work with the NATO-led International Security Assistance Force in Afghanistan to combat drugs.
Similarly, the SCO supported its member states' participation in Afghanistan's economic reconstruction programs, said the Tashkent Declaration.
On the turmoil in Kyrgyzstan, SCO members said restoring political stability in Kyrgyzstan is significant for the entire region, adding they were willing to offer assistance to the conflict-ridden country.
Kyrgyzstan's interim government declared a state of emergency and curfew in several southern cities after violent riots broke out on June 10. Two months earlier, opposition leaders formed an interim government in Bishkek following nationwide protests that resulted in the ousting of President Kurmanbek Bakiyev.