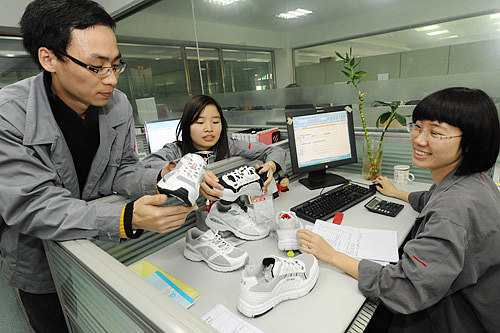 RISING CAREER: Three workers check the products in a shoe manufacturing factory in Jinjiang City in east China's Fujian Province on March 4. Because of their hard work, the three new-generation migrant workers have been promoted into the factory's management team (ZHANG GUOJUN)
Like many migrant workers, Xu Xiaojun, a 25-year-old kitchen cabinet installer who came to Beijing in 2001 from a small village in central China's Henan Province, hopes to find his way in the city instead of going back to the countryside.
"My hometown is a village with dry land. You can't imagine how hard the lives are for people living there. I cannot live there anymore," Xu said. "Besides, I know little about farming."
Xu is one of millions new-generation migrant workers in the country. The term "new generation" refers to migrant workers born in the 1980s and 1990s who work and live in big cities but hold rural hukou, or registered permanent residence, said Tang Renjian, Vice Director of the Office of the Central Leading Group on Rural Affairs.
This year's "No.1 Central Document," jointly issued by the Central Committee of the Communist Party of China and the State Council on January 31, addresses problems the new generation of migrant workers face. This is the first time the term "new generation of migrant workers" has been used in an official document.
According to information provided by the National Bureau of Statistics (NBS), the total number of migrant worker in China reached 230 million at the end of 2009, up 1.9 percent from the previous year. About 100 million of them were born after 1980, NBS said.
Hukou something
Zhang Yi, a researcher with the Chinese Academy of Social Sciences, said that most of the new generation of migrant workers went to high school, but have not done agricultural work, and they want to live in cities.
According to NBS statistics, 90 percent of new-generation migrant workers have done little agricultural work over the past two years. Xu left his home without completing his high school education, but he was still the one holding the highest education among his co-workers at his first job on a construction site.
"I didn't want to be a construction worker for life so I quit the job a month later. Then I found a job as a salesman selling cosmetics," Xu said shyly.
After two years of working as a salesman he was recruited as an apprentice for the Beijing Branch of south China's Guangdong Optima Group Incorporation, a manufacturer of kitchen cabinets.
"I have worked and lived in Beijing for nine years but I still don't feel like I belong to any group," Xu said. He always felt that he was seen as a second-class citizen because of his identity as a migrant worker.
Zhang said the new generation of migrant workers always have strong desires on equality and fighting social discrimination. They are determined to become urban residents.But in reality, the current household registration system makes it hard to become urban residents, said Gu Shengzu, Vice President of the Demographic Society of China.
He said, the flow of Chinese farmers can be measured in three waves over the past 30 years. In the first wave, which started in the 1980s, they worked in their hometowns for rural enterprises. In the second, they left their villages for temporary work in cities. The country is now experiencing the third wave in which farmers are settling in cities and being joined by their entire families.