In the next decade, China will go through a reform and economic-based transformation much like it did 30 years ago. But where should the Chinese economy go in the next national five-year plan (2011-15)? And how will the country adapt to the many economic and social changes that have developed in recent years? Chi Fulin, Vice Chairman of the China Society of Economic Reform, recently shared his opinion on the second round of economic reform in the Economic Information Daily. Edited excerpts follow: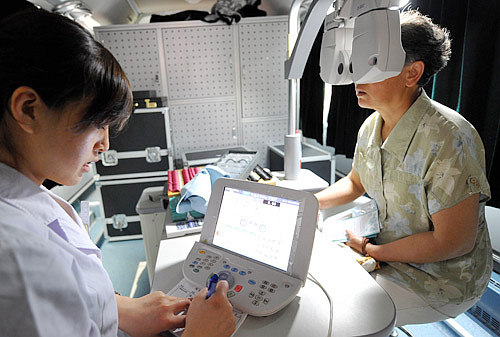 CARE FOR ALL: Eye doctors of the 306th Hospital of the People's Liberation Army give free eye check-ups to Beijing residents. Further efforts in the country's development must be taken to ensure China's citizens live happy and healthy lives (LUO XIAOGUANG)
The Chinese economy will undergo tremendous changes in the next five to 10 years, which will exert enormous influence on society at large. The new economic development trend will have the following features.
The social demand structure will undergo a swift change. In a relatively short time, domestic demand will replace external demand as the major economic propellant as demand increases across society. But whether China can successfully pull this off or not depends on the measures it takes to adapt to the new trends.
With economic improvements, people's needs for basic living necessities will drop substantially. Rises in industrial and service development will see more labor force being engaged in these two sectors as opposed to agriculture and its shrinking production.
For long, Chinese household income lingered at a low level, directly restricting the wealth accumulation of middle- and low-income families. The widening gap in income limits the development opportunities of those families, who should have also enjoyed the benefits of the country's economic takeoff.
Therefore, it is one of the government's top priorities to ensure that each person has the equal opportunity to work and live in dignity. In the meantime, Chinese people should participate in social affairs and be highly motivated to build a low-carbon society for the well being of their children.
Future development
The development model in the 12th five-year plan will follow the five trends.
First, economic development will be shifted from investment-oriented to consumption oriented. In recent years, consumption's contribution to economic growth has risen steadily, especially with the series of measures adopted in 2008 meant to spur purchasing trends. As international examples show, when per-capita GDP reaches $3,000 a year, investment weighs less on GDP growth, giving way to consumption. At present, per-capita GDP stands at $3,000-$4,000, a turning point for increasing consumption.
The key to the above economic shift largely depends on whether the government has the will to innovate and adopt relevant policies and systems. For instance, the government has a vital role in readjusting income distribution and should therefore carry out income distribution system reform.
Second, the economic growth will be driven mainly by urbanization instead of industrialization. Cities are major consumption hubs, and urbanization is the best choice for building up a major consumption country. In general, China's industrialization process will be at a level of adjustment and improvement, while urbanization grows rapidly.
China's urbanization speed, however, lags far behind its industrialization speed. In 2009, the urbanization rate was only 46 percent, 6 percentage points lower than the global average, even though it had already entered a middle to late period of industrialization. The insufficient urbanization rate suppressed domestic consumption, leading to a lack of domestic demand as well as over production.
The next five years will be an important phase for urbanization. Central and western areas will embrace the fastest urbanization speed. It is expected in the 12th five-year plan period (2011-15) that Wuhan, capital of central China's Hubei Province will emerge as a centerpiece of urbanization along with surrounding cities. In the meantime, competition and development among cities will provide a sustained vigor to the economic growth. The Central Government should share some of its power with local governments and grant them rights to develop independently.
Third, Chinese households' expenditures are put into education and medical care. In general, annual expenditures on public goods have increased fivefold compared with those in the 1980s and early 1990s. The government has also attached great importance to the development of public goods, but the proportion of investment is not enough. For instance, government expenditures on education in 2008 accounted for only 2.97 percent of GDP, while the average proportion in the world was 4.6 percent that year.